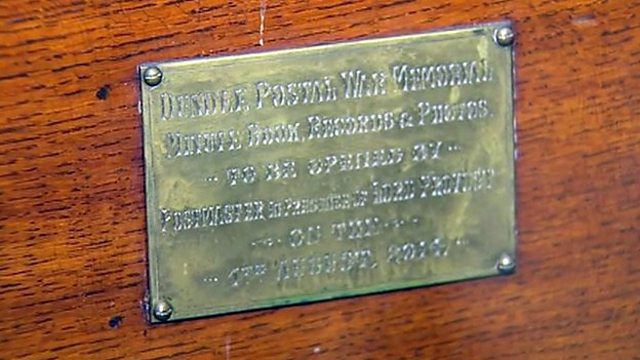 Dundee, Scotland: Post Office Casket
DD1 3BY - Dundee
On August 4th 2014, a unique World War One artefact will be opened up - after having been sealed for over ninety years.
It was in 1921 that a simple oak casket - containing a variety of objects commemorating Dundee postal workers who had fought and died in the conflict - was sealed.
Inside are service records, letters from the battle front, poems, coins - even gramophone records.
Strict instructions were left that the casket had to be open in Dundee, exactly one hundred years after war was declared.
But it very nearly didn't happen - and it's thanks to the amateur detective work of Broughty Ferry woman Janice Kennedy, that the post office time capsule has been tracked down.
It was while researching her family history that Janice happened on an entry in a privately published diary of a Dundee man called James Gahan. In a diary entry from 1924, the diarist mentioned a poem that his brother had been asked to compose to be added to the contents of the casket. Having got wind of its existence, Janice began the task of tracking it down:
"I went to various places to enquire after it. I didn't know if was in the museum or the city archives. I had to put my thinking cap on - where could it be?"
As with all the best treasure stories, Janice wasn't the only person hunting. Forbes Walker has worked for Post Office Counters for forty years and he first heard of the casket in the late 1980s when he wrote an article about it for an in-house magazine:
"The casket's always been in my mind since writing that article. With so much on televsion and radio to commemorate the First World War, I decided to start looking for it - about 18 months before it was due to be opened. But it turned out to be quite a long job! So long that I became frustrated that every road led to a dead in end. I'd got to the stage that I had given up."
But while Forbes hit a brick wall, Janice had an amazing stroke of good fortune. After asking her local postman about it, he got in touch to say that the casket had been located - in the Dundee East sorting office.
Janice and Forbes have now met up and are both delighted that the Post Office casket will now be formally opened at a ceremony in Dundee on August 4th 2014.
"We're very privileged to have this. We're the only city in Britain that has something to open - a gift from the people who went to war. And they certainly did want the 4th of August remembered."
Image Copyright: BBC News
Featured in...
Places in Scotland that tell a story of World War One

Memory

—

World War One At Home

Memorials and the commemoration of wartime lives