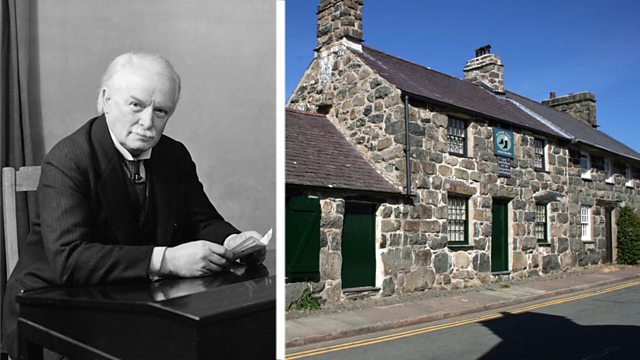 Llanystumdwy, Gwynedd: Highgate and the Making of a Prime Minister
"For many people he was quite simply the man who won the War", says Emrys Williams, of Llanstumdwy's Lloyd George Musuem. If that is the case, how did a man from this quiet corner of North Wales come to exert such enormous influence over the shape of Britain, and indeed the Continent, once he had come to power as Prime Minister in late 1916? For some people, the key lies in Lloyd George's Welsh background, and the dedication of his uncle, Richard Lloyd, the village shoemaker, and member of a Baptist sect.
David Lloyd George, who was born in Manchester, was only 18 months old when his father died. His mother was forced to sell his Pembrokeshire cottage and move to her brother Richard Lloyd's cottage at Llanystumdwy. That cottage – Highgate –is a world away from the plush corridors of imperial power to which Lloyd George aspired. And it's a world of which many of his more privileged political colleagues had little notion. Although far from destitute, the astute politician could justifiably claim 'I am one of the children of the people'.
Highgate, restored to its original condition, still houses the original desks at which David and brother Richard stood (and later sat) as they studied hard to pull themselves out of this respectable world of rural poverty. And according to Emrys Williams it's perhaps here that we have the biggest clue to the course Lloyd George would eventually take. Under the direction of his devout uncle, Richard Lloyd, he would carefully read and précis the library of books rescued from his late father's library. As a result, he could master and memorise any brief on first reading, far outstripping his contemporaries. Valuable training for a lawyer – and no less valuable for an ambitious politician.
As one of the victors in the Great War, Lloyd George played a significant and many historians would argue pernicious role in determining the future shape of Europe, contriving to portray himself as a moderating influence between the extremes of the Americans, on the one hand, and the French on the other. But it can be argued that it was his humble Welsh origins that caused him to feel so outraged by the aggression of Germany towards Belgium, and pursue the war with such vigour – being Welsh he knew all about small nations, and their struggles.
Location: Highgate, Llanystumdwy, Criccieth, Gwynedd, LL52 0SH
Presented by Phil Carradice
Interviewee: Emrys Williams
Featured in...
Places in Wales that tell a story of World War One

Memory

—

World War One At Home

Memorials and the commemoration of wartime lives