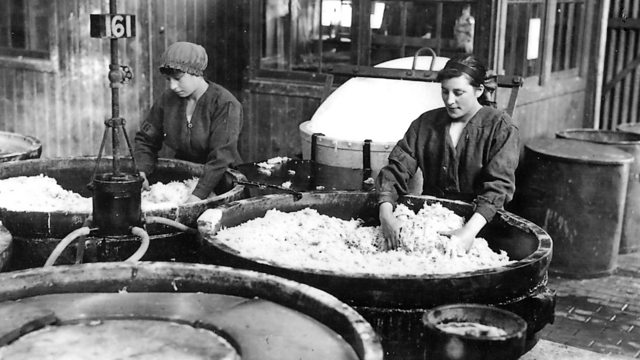 Gretna, Scotland: Devil's Porridge
DG12 6TQ - Gretna, Dumfries and Galloway
HM Factory Gretna was Britain's largest cordite factory during World War I. It was built by the Ministry of Munitions in direct response to the Shell Crisis of 1915.
The scale of the factory was vast, stretching nine miles from Longtown in England to Dornock in Scotland.
Some 9000 women and 5000 men were employed in the dirty and dangerous work of mixing the high explosives. The cordite mix was once described as "the devil's porridge" by Arthur Conan Doyle when he visited HM Factory and the name stuck.
"It wasn't just the factory itself that dominated the landscaspe," explains author and historian Trevor Royle. "There was also a lot of domestic accommodation – the people who worked in Gretna lived there as well. There was a huge encampment with a cinema, restaurants and bakeries – a self-contained unit."
Life for the mainly women factory workers was long, dangerous and tiring. Because of the nature of the cordite mix, the workers were forbidden to wear or bring in anything to the factory that might react with the explosive and set it off. Even innocuous objects such as metal hairpins, buttons and even knitting needles were banned – and this was rigidly enforced with routine searches of the workers and the prospect of fines.
"HM Factory Gretna was crucial to the British war effort," says Trevor Royle. "By 1915 it had become clear that Britain needed vast numbers of high explosive shells and that the shells they had been using up to then were absolutely useless. High explosives were the future – and HM Factory Gretna supplied it."
Featured in...
Places in Scotland that tell a story of World War One

Women

—

World War One At Home

How war transformed the status and role of women