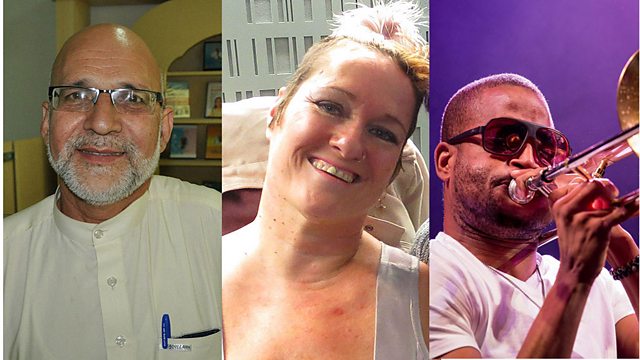 Mending Minds, Statues and Trombones
Listen in pop-out player
Dr Mohammad Nader Alemi has been practising as a psychiatrist in Afghanistan for nearly three decades, and runs a private psychiatric hospital in Mazar-e-Sharif. For Outlook, Tahir Qadiry went to meet him.
British artist Alison Lapper was born without arms and with very short legs, and became famous when a statue of her naked and heavily pregnant went on display in Trafalgar Square. She tells Jo Fidgen about having one of the most famous bodies in Britain.
Christina Quintanilla was jailed after losing her baby seven months into her pregnancy. Abortion under any circumstances is illegal in El Salvador and although Christina says she miscarried she was sentenced to 30 years in jail for aggravated homicide. She was released after four years, but her conviction has not been overturned. She now lives outside the country.
Trombone Shorty - aka Troy Andrews - was just six years old when he became a neighbourhood band leader in New Orleans. Now he entertains presidents and tours the world with his band, Trombone Shorty and Orleans Avenue.
(Picture: Afghan Dr Mohammad Nader Alemi, British artist Alison Lapper, New Orleans' Trombone Shorty
Credit: Trombone Shorty picture by David Hedges)
Last on
Mon 25 Aug 2014
00:32

GMT