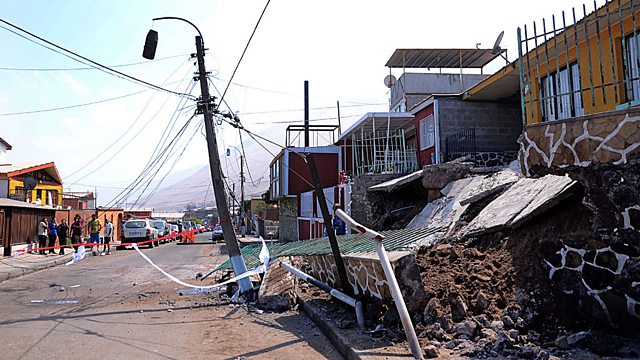 Chile Earthquake Explained
Listen in pop-out player
New evidence suggests that the potential for large earthquakes in Chile remains high. The north of the country was hit by a magnitude 8.2 quake in April and now two teams of researchers have concluded that the fault in the region is still under strain. Chile is one of the most seismically active regions on the planet, but the earthquake in April was the first significant one since 1877. Since then the forces have been building up and this new work, published in the journal Nature, shows that the April event was not enough to fully release them. Professor Roland Burgmann from the Department of Earth and Planetary Science at the University of California, Berkeley, reviewed the work and joins us on the programme.
GM Fruit Flies
The Mediterranean fruit fly is a global agricultural pest which infests over 300 crops including fruits, vegetables and nuts. Genetically modified flies could be released into the wild as a method of pest control after greenhouse tests showed the technique works and resulted in population collapse. Dr Phillip Leftwich, from the School of Biological Sciences at the University of East Anglia, explains the GM flies are only capable of having male offspring, which both skews the sex ratio and reduces the damage caused because it is the females laying eggs that damages crops.
Panama Canal Centenary
The Panama Canal was opened 100 years ago and has had a major impact not only on global trade but also on naval architecture. The waterway, which effectively unites the Atlantic and Pacific oceans, is one of the world's greatest engineering achievements. It was the product of decades of false starts, but now more than one million ships have passed through the 18 kilometres of waterways and locks. The canal is such an important trade route that vessels are designed to be just large enough to squeeze through it, and no larger. The canal is now being widened. To find out more about the history of the canal, and the future of ship design dependent on it, we spoke to Matthew Collete, Professor of Ship Design at the University of Michigan in the US, and also Paul Stott, from the School of Marine Science and Technology at Newcastle University in the UK.
Early Egyptian Embalmers
Think of ancient Egypt, think of mummies – but the practice of embalming may have started a lot earlier than previously thought. New research suggests that the preservation of bodies in preparation for the next life may have starts 1,500 years earlier. Dr Stephen Buckley from the University of York is an archaeological chemist and has used modern chemical investigation techniques to determine when the embalming of bodies may have began.
(Photo caption: View of destroyed houses in Iquique, northern Chile, on April 2, 2014 a day after a powerful 8.2-magnitude earthquake hit off Chile's Pacific coast © AFP/Getty Images)
Presenter: Jack Stewart
Producer: Ania Lichtarowicz
Last on
Mon 18 Aug 2014
03:32

GMT