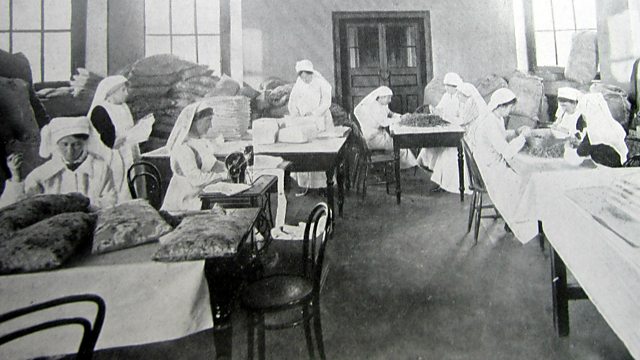 The Bog of Allen, Co Kildare: Sphagnum Moss, the Lifesaving Plant
Cotton wool was a valuable commodity during the war.
By the end of 1914 it was in short supply as its use was prioritised for military purposes, particularly in the manufacture of explosives.
It was also used in surgical dressings – the need for which increased exponentially after the early battles in France and Belgium. An alternative to cotton wool was urgently required.
Sphagnum moss was the unlikely solution. It grows in bogs, moors and along sea coasts and had been used as a folk remedy for centuries. This tiny plant, once dried and treated, is four times as absorbent as cotton wool and is mildly anti-septic. With bogs covering one seventh of the surface of Ireland, it was also abundant.
The Royal College of Science in Dublin became the main collection depot in Ireland. Sub depots across the island sent moss here by train. The moss was collected by volunteers, including Girl Guides, school children and church groups.
There were three different grades of moss: -
First Grade – the thicker and more absorbent varieties were used entirely for surgical dressings
Second Grade – thinner and less absorbent varieties were used for dysentery pads
Third Grade – inferior moss, compared to the other two grades, was used in filling cushions of all sizes
The gathered moss was sorted and packed into special boxes and sent to operating theatres across the front and at home. By the end of the war, volunteer nurses at the Royal College of Science had sent out nearly one million moss dressings.
Location: The Bog of Allen, Lullymore, Co. Kildare. Latitude 53.281801 Longitude -6.930517
Image of the moss picking room in The Royal College of Science, Dublin
Image courtesy of Dr Clara Cullen
Featured in...
Medicine

—

World War One At Home

Hospitals, medical pioneers and the nursing contribution

Places in the UK and Ireland that tell a story of World War One