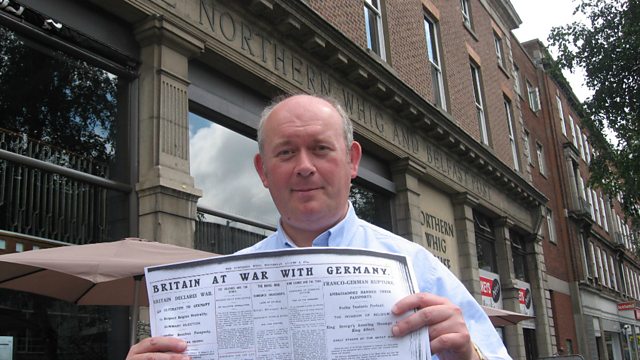 The Northern Whig, Belfast: Newspapers Report the Declaration of War
Today The Northern Whig is a busy bar and restaurant in central Belfast, but in 1914 the building was the headquarters of one of the city's leading newspapers.
At the time there was a wide range of newspapers across Ireland, some of them are still with us today.
National titles like The Irish Times and The Irish Independent covered the whole of the island of Ireland. There were also provincial titles like The Northern Whig, The Belfast Evening Telegraph and The Cork Examiner. Smaller town or county based local newspapers included The Lurgan Mail, The Irish Post in Cavan, The Impartial Reporter in Fermanagh and The Derry Journal.
When the ultimatum to Germany to withdraw its troops from Belgium passed at 11.00 pm London time (12.00 midnight European time) on the 4th of August 1914, Britain was formally at war with Germany.
Papers were the main source of information for the population, and many of them were reasonably priced at one penny. Ireland had the highest literacy rates in Europe at the time, and as people were hungry for knowledge many papers saw their circulations increase.
Dr Timothy Bowman, of the University of Kent and the Arts and Humanities Research Council, takes a look at how The Northern Whig and The Belfast Evening Telegraph reported the outbreak of war.
Location: Northern Whig building in Belfast, BT1 1LU
Image of Dr Timothy Bowman
Featured in...
Places in the UK and Ireland that tell a story of World War One

The impact on arts, literature, poetry and journalism