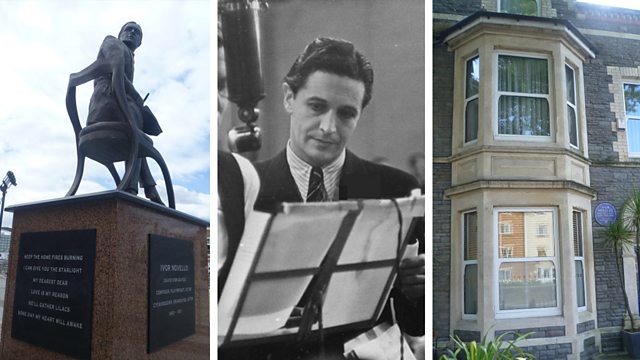 Cardiff, Oval Basin: 'Keep The Home Fires Burning'
We know it as 'Keep the Home Fires burning' – back in WW1 people knew it as 'Till the Boys Come Home', and it was to became the anthem of an entire generation, sung both in Britain and in the US and further afield. And yet Ivor Novello's wartime hit was only written in response to his own mother's clumsy attempt to write a patriotic song ('Keep the Flag a-flying'). Fearing her feeble effort might bring shame on the family name, Ivor resolved to do better. And to avoid the obvious clichés of the war-song.
Born at 'Llwyn yr Eos' (Nightingale's Grove) on Cowbridge Road East, Cardiff, Ivor Novello Davies soon discovered an aptitude for singing, and a love of the stage. After some years as a chorister scholar in Oxford, and performing occasionally on stage in Cardiff, Ivor then headed for the bright lights of London, and managed to get some of his youthful compositions published, to modest acclaim.
But it was Keep the Home Fires Burning that really launched his career. In August 1914 Ivor, goaded by his mother, came up with a good tune, and some of the words for the chorus. An American poet, Lena Guilbert Ford (who would later be killed in an air-raid) helped Ivor to complete the verses and the all-important chorus.
As singer and producer Ross Leadbeater (formerly of Only Men Aloud) explains, the song became an instant hit. At the first performance, as soprano Sybil Vane sang the chorus and Ivor played the piano, there was a faintly audible sound from the audience. The second time the chorus came around there was no mistaking – the entire audience were singing and marking time with their feet. The song was a hit!
As Ross explains, the key to this success is the memorable image of the home fires, the simplicity of the chords, and the subtlety with which Ivor uses a special (augmented) chord on the word 'yearning' just to tug on the heart-strings, before returning to the home key on the very word 'home'!
At 21 Ivor had hit the jackpot: he earned at least £15,000 for it – a sum worth millions in today's money. His mother was delighted. She had always had huge musical ambitions for her son. Indeed, when her husband, David Ivor Davies, a rates officer for Cardiff Council, suggested their son might one day get a job in Cardiff Docks she was appalled at the thought. So it's a crowning irony that, a century after penning his hit song, Cardiff Docks is exactly where Ivor can be found these days, immortalised in a bronze statue, beside the Oval Basin, in the shadow of the Wales Millennium centre. But surely Mam would have been proud!
Location: Oval Basin, Cardiff, CF10 5AL
Featured in...
The impact on arts, literature, poetry and journalism

Places in Wales that tell a story of World War One