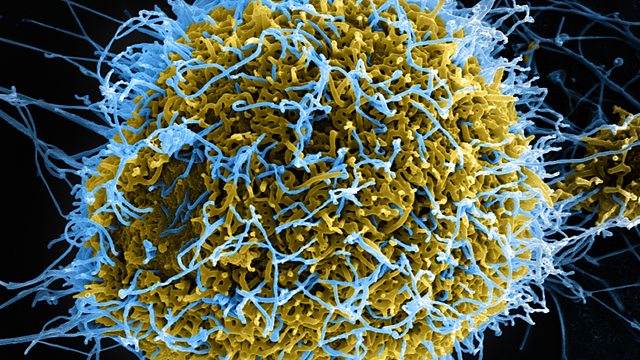 Ebola, Paracetamol, Michael Rutter.
Ebola's effect on small communities,
Tulip Mazumder reports from Guinea, where the Ebola outbreak started back in March.
Malarial Resistance
How the growth of urban areas has played a role in halting the spread of malaria
ExpeRimental
There's an online wealth of science demonstrations you can try at home with your kids. But what's sometimes lacking is the encouragement of questioning the science in these DIY experiments. Science teacher and film maker Alom Shaha has devised a series of videos with the Royal Institution showing parents experimenting with home-made lava lamps, bubbles and bottle cannons. He hopes that amidst the mess and mistakes, some scientific thinking can be nurtured.
Professor Sir Michael Rutter
Professor Sir Michael Rutter has been described as the most illustrious and influential psychiatric scientist of his generation. His international reputation has been achieved despite the fact that as a young doctor, he had no intention of becoming a researcher, nor interest in becoming a child psychiatrist. In fact he became a world leader as both.
MOOCs
Massive Open Online Courses are free and open to anyone with access to the internet. You can study a huge range of topics from cancer and dental photography to quantum physics, and even the archaeology and history of Hadrian's Wall. Critics say these higher education courses are just a PR exercise by universities, and that it will set up a two tier system in education. But Kathryn Skelton from FutureLearn, a platform for many of these MOOCs, argues that they encourage people who would not normally extend their education to take part and the universities providing the courses can gain great insight into the changing face of teaching methods.
Back pain and paracetamol
Mark Porter investigates a new research trial which shows that paracetamol doesn't help back pain.
Drones to repair aeroplanes;
Suppose you're an airline with a large expensive fleet to maintain. What might be a good device for helping with aircraft maintenance? One of the UK's budget airlines is trying out small remote controlled aircraft, drones in other words
Photo: Science Photo Library: Ebola virus budding fom cell:
Last on