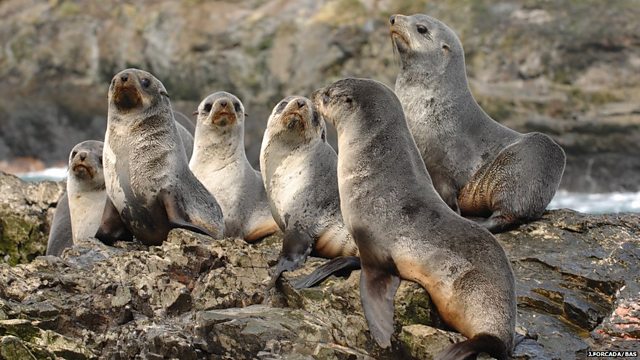 Decline in Antarctic Fur Seals; Face recognition; Amnesty's Video Validation
Decline in Antarctic Fur seals & climate implications
A new paper in the journal Nature says that a shift in a dominant climate pattern has affected the supply of the Antarctic Fur seals' primary food source - krill. Three decades of data show the females of this species are being born smaller, and those that do survive to motherhood are breeding later in life. Subtle changes in their genetics are also being recorded.
Face recognition
The software that analyses images of your face, captured online or when you're out and about, has rapidly improved. Adam Rutherford visits Amscreen, to test the cameras they deploy at supermarket checkouts to determine your age and sex, to inform advertisers of the best demographic to target. This raises ethical and privacy issues which Adam discusses with privacy expert Professor Colin Bennett and Luke Dormehl, author of "The formula, about algorithms and the algorithm culture".
Amnesty's Video Validation
There's a new online tool to validate videos purporting to show human rights abuses. Amnesty International has released a website that offers ways of probing archive and videos to determine their reliability. YouTube, for instance has become an archive of human rights abuses in all kinds of conflict zones. Gareth Mitchell hears from Christoph Koettl, the Emergency Response Manager at Amnesty.
What has Happened to El Nino?
At the start of 2014 meteorologists warned of a possible El Nino event this year. The portents were persuasive – a warming of the central Pacific much like that which preceded the powerful El Nino event of 1997. But since then the Pacific climate system seems to have stalled. What's going on? What are the prospects for an El Nino to develop later this year? What impacts might it have? Roland Pease delves below the Pacific surface to find out what drives El Nino cycles, the most powerful single climate fluctuation on the planet, and asks the experts why it is so hard to forecast.
Great Brain Experiment
The Great Brain Experiment is a smartphone app that helps to conduct one of the largest cognitive experiments of its kind. Players are presented with a variety of games that have names like "Am I impulsive" and "What makes me happy"? We hear how the data generated is helpful in psychology experiments.
Anxiety
Around one in 14 people worldwide experiences anxiety at any one time. This condition can be mild, but at the other extreme prevent people from living normal lives. Claudia Hammond discusses the issues surrounding people's fears with author Scott Stossell and clinical psychologist Nick Gray, from the Centre for Anxiety Disorders and Trauma at the Maudesley Hospital in London.
(Image: Antarctic fur seal weaners on a rock. Credit: Dr Jaume Forcada from the British Antarctic Survey (BAS).)
Last on
Sun 27 Jul 2014
13:06

GMT