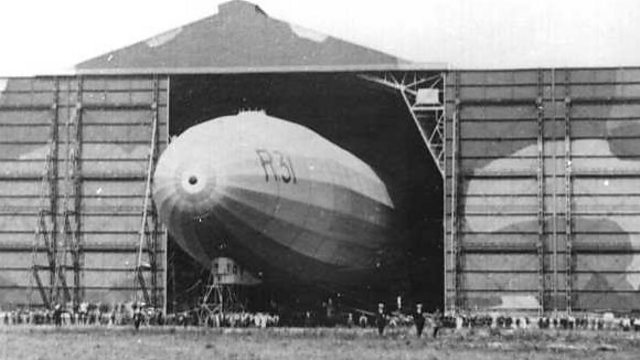 Cardington, Bedfordshire: Development of Airship Technology
As Zeppelins became more of a menace, the British government decided it needed to build bigger airships to counter the threat.
Cardington in Bedfordshire was chosen as the site to build Shed 1, the biggest of its kind in the UK at that time. Its size meant an act of Parliament was required to release the amount of steel needed to build it.
The R31 airship was the first to be completed. It was finally commissioned for use five days before the war ended and never saw active service. It was moved to a shed in Howden in Yorkshire but was damaged when the roof leaked. It was eventually sold for scrap to a coal merchant for £200.
History has been kinder to Shed 1, which played a major part in Britain's airship industry from 1919 as the Royal Airship Works, and our biggest workshop space.
Location: Cardington Airfield, Bedfordshire MK42 0UZ
Image: The R31 was finally commissioned for service five days before the end of the war. Photograph courtesy of the Airship Heritage Trust.
Featured in...
Places in Beds, Herts & Bucks that tell a story of World War One

Zeppelin raids and aviation heroics