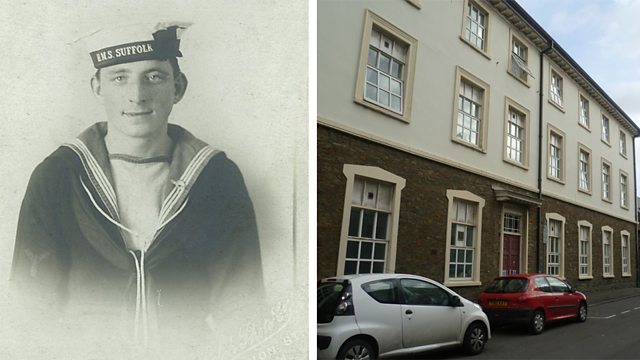 Gloucester Place, Swansea: Tom Jeffreys part 3: A Deserter Joins The Navy
Like many men caught up in the first rush of enthusiasm for the war, Tom Jeffreys soon became disenchanted with the sheer tedium of army life. His uniform, bloodied and torn, was hardly what he had hoped for, and guarding a storeroom in Penally was rather humdrum!
Desperate to get to France, and wishing to by-pass the boredom of army training, Tom resolved on another method to get abroad: desert from the army and join the navy. Tom laboured under the misconception that it was permissible to jump from the army to the 'senior service'. In fact, the Naval Discipline Act made it quite clear that army deserters were not to be tolerated, but to be sent back to their units to face court martial. Such was indeed the fate of other Welshmen who decided to desert from the army.
According to Tom's own account, the police were looking for him in Llanelli, and he therefore had no choice but to get out of town. Arriving in Swansea he headed for the docks and saw an advert for naval recruits wanted. He walked in. More than likely, that naval recruitment office would have been in Gloucester Place, now at the heart of Swansea's Marina.
Unusually, Tom was very fortunate to get to serve aboard a ship – most naval recruits were placed with land-based units, and became subject to army discipline. He was even more fortunate not to have faced a court-martial, resulting in imprisonment or even death! Instead, he survived the war, and lived until the 1980s.
Location: Gloucester Place, Swansea, SA1 1TY
Recording courtesy of Rachel Jeffreys
Image courtesy of Tom Jeffreys grand-daughter