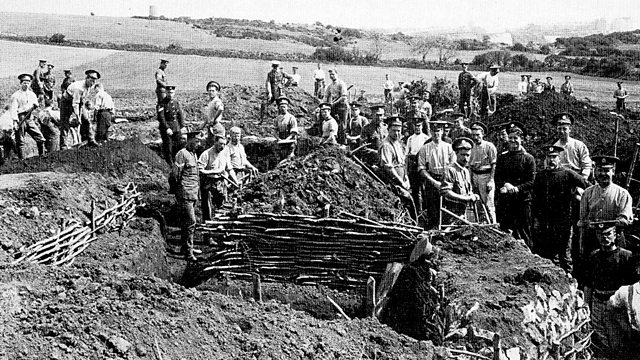 Penally, Tenby: Tom Jeffreys part 2: Fooling The Doctor
Tom Jeffreys was one of the first volunteers in Llanelli to sign up for active service in the 4th Battalion of the army during world war one. He did this within hours of war being declared. But like many young men of his generation, he was naïve and ignorant, expecting to be sent out to France immediately. Instead, he found himself sent to Fishguard, and then to Penally, near Tenby.
Although some people may have imagined the war might end within a few weeks, at a senior level men such as Lord Kitchener realised very early on that a massive volunteer army would be required if Britain were ever to stand a chance of resisting, still less defeating Germany. With its standing army of 21/2 million men, as opposed to Britain's 225 000 Britain had a great deal of catching up to do. These men would need to be trained, clothed, fed and armed – all of which would take months, if not years.
After the initial surge of enthusiasm, men like Tom were disappointed to find that army life meant much tedium in muddy locations, and not the glamour of firing weapons at the enemy on the Continent. Disenchanted with the soldier's life, and the routine of guard duty Tom learns of an old soldier's ruse to fool a civilian doctor into granting him a pass for home leave. It's a course of action that would eventually lead him to desert from the army.
Location: Penally, Tenby, Pembrokeshire, SA70
Image of Penally Training Trenches courtesy of Roger.J.C.Thomas
Featured in...
Places in Wales that tell a story of World War One

Memory

—

World War One At Home

Memorials and the commemoration of wartime lives