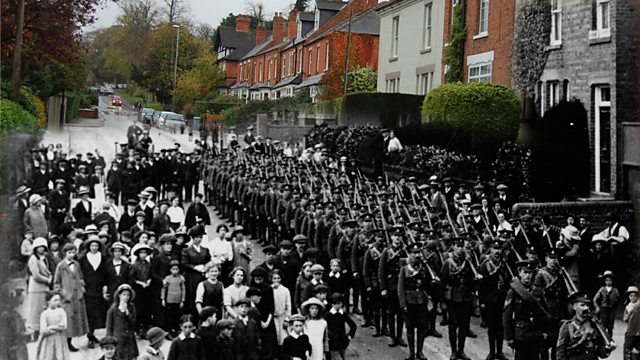 Southwell, Nottinghamshire: Part-time Soldiers
As with many towns and villages; Southwell had its own Company of Territorial or part-time soldiers who were immediately ordered to mobilise on the outbreak of war.
'H' company, which formed part of the 8th Battalion of the Sherwood Foresters, had been away on their annual training camp when news of the outbreak of war came through. Within days they had packed their kit and were marching to the railway station, led by a local solicitor, Major John Becher.
At first they were sent to Newark and charged with guarding the bridge and railway. As territorials; they were under no obligation to fight overseas, but in 1914, like most of the 200,000 reservists around the country, they signed papers agreeing to serve outside Britain. And in the spring of 1915 they were sent to France.
Their ages ranged from 17 to 48 and they had come from a variety of occupations. Among them were farm hands, servants, frame knitters and lace factory workers.
An attack in the Hohenzollern Redoubt in October 1914 proved to be one of the darkest times for the Southwell men when nine were killed. Of these were two brothers: Captain Henry Handford and 2nd Lieutentant Everard Handford; and Major Becher was injured, subsequently dying from his wounds. All three men have windows in Southwell Minster dedicated in their memory.
There is a stained glass window to the two Handford brothers in the South Quire and a window to John Becher in the Pilgrim's Chapel.
Location: Southwell, Nottinghamshire NG25 0ET
Image: 'H' Company marching down Station Road in Southwell, courtesy of Mike Kirkton from Southwell Local History Society. Photograph merged with Station Road as it stands today.
Interviews with local historian, Mike Kirton, and Robin Sharman; relative of John Sharman who died.
Featured in...
How the army prepared the nation for conflict

Places around Nottingham that tell a story of World War One