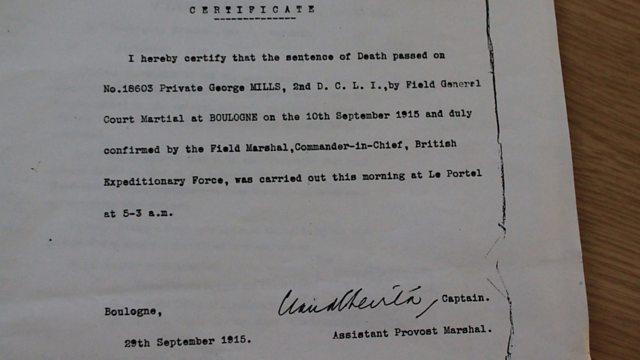 Bodmin, Cornwall: Shot at Dawn
Private George Mills is recorded as the only member of the Duke of Cornwall Light Infantry shot for desertion.
Mills is one of 306 men recorded to have been shot at dawn by British Firing squads. The Duke of Cornwall Light Infantry Museum has a copy of Mills' Court Marshall and death certificate. Curator Hugo White shares George's story.
"George Mills was born in London in 1894 he has no known father. He volunteered for enlistment in the Duke of Cornwall's Light Infantry on 24 February 1915, and he crossed to France to join the 2nd Battalion in Flanders on the night of the 15/16 March. Now this is very strange because a recruit of that period had six months training. George Mills cannot have had more than three weeks, possibly a month of training before he went to join an operational battalion."
On the night of his crimes, Mills had been left behind as the rest of the battalion went up the line.
"During the early hours he stole his officer's uniform, his officer's documents together with money and various other items from the kits of another officer and a private soldier and absconded to Boulogne.
"In the eyes of the soldiers the crime he'd committed was stealing from another private soldier. Steal from your officer and that's fair enough but not from one of your mates. He didn't last long; he was arrested by the military police on 3 August 1915 and charged with eight offences. The most serious of which was whilst on active service attempting to desert His Majesty's Service. This carried the death penalty," explains Hugo White, from the Duke Cornwall Light Infantry (DCLI) Museum.
Private George Mills was shot at 04.30 hours on 29 September 1915.
"This is a very difficult thing to talk about because we live in the 21st Century when our ethos is very different I think to that that existed at the end of the 19th Century and beginning of the 20th Century. Life was hard and the death penalty existed in civilian life, and certainly in France life was cheap," says Hugo White from the DCLI Museum in Bodmin.
After many decades of campaigning, The Armed Forces Act 2006 provided a blanket pardon for the executed men.
"Section 359 of the act states that these men should be pardoned but it does not affect any conviction or sentence so in other words it's actually a symbolic pardon rather than a quashing of any conviction but the families and supporters of the campaign were very satisfied with this result," states Dr Catriona Pennell from the University of Exeter.
Location: DCLI Museum, Bodmin, Cornwall PL31 1EG
Image: Private George Mills' death certificate, courtesy of DCLI Museum
Presented by Exeter University academic, Dr Catriona Pennell
Featured in...
Places in Cornwall that tell a story of World War One

Refugees, internment, training and protest.