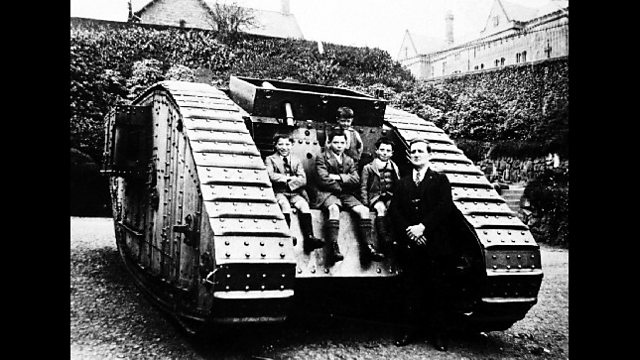 Dundee, Scotland: Julian the Tank
DD1 1DA
"A wave of enthusiasm is creeping over Dundee. Julian the Tank will be in the city on Monday, and his visit is awaited with the keenest interest."
Tank banks were a novel way to raise money organised by the War Savings Committee. There were six tanks who toured the UK but Julian was the one who came to Scotland. When Julian came to town, everyone, including school children, was encouraged to put money in the tank or to buy National War Bonds and War Savings Certificates from the tank to raise money for the war effort. Dr William Kenefick, senior lecturer at Dundee University and local historian Mike Taylor, describe the occasion when Julian the Tank Bank came to Dundee at the beginning of February 1918.
When Julian came to Dundee it was a great occasion and Julian performed for the huge crowds who had come to see the new machine they hoped would win the war. "Opposite the Albert Institute an obstacle, consisting of earth on which were built sand bags, with a barbed wire arrangement on the top, had been placed, and the progress of the Tank over the barrier was watched with interest."
By 8.00 in the evening, including money raised from burghs and districts, well over £1,000,000 was raised in one single day. As an added incentive, the town or city that raised the most money would get to keep Julian. After tank bank week in February 1918, Dundee was in the lead and the citizens were sure that Julian would be awarded to the city as a lasting symbol of their generosity and commitment to the war effort.
Image courtesy of Dundee Art Galleries and Museums
Featured in...
Places in Scotland that tell a story of World War One

Technology

—

World War One At Home

Wartime pioneers and innovation