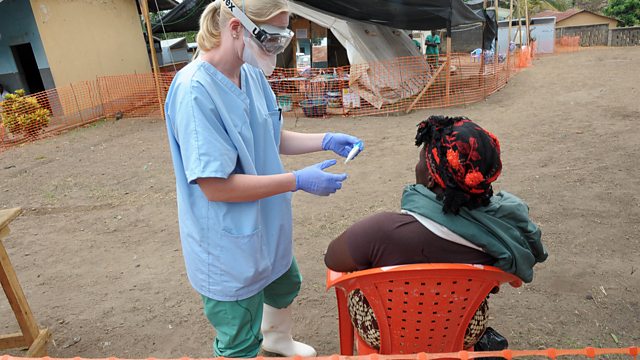 Ebola Virus; Azolla in Britain; One Million Deaths Study
Ebola Virus
The current Ebola outbreak in Guinea, Sierra Leone and Liberia is the world's worst to date and shows no signs of slowing down. The World Health Organisation has reported figures of up to 1000 cases and more than 600 deaths. Medical agencies say that the spread of the virus is partly due to the lack of knowledge amongst the aid community of how the sick are cared for and how the dead are handled. Anthropologist Professor Melissa Leach, of Sussex University, has been following the outbreak.
Azolla in Britain
The rather unimposing pond-weed is a minute water fern that spreads like wild fire, which, according to geological records, once covered the North Pole 50 million years ago. Roland Pease got word that this rampantly invasive plant was taking over some drainage channels in Lancashire in the UK, which is where he met Dr Jonathan Bujak.
Caterpillar
In a collaboration of audio and chemical analysis, a study published in the journal Oecologia, revealed that plants respond to sounds that caterpillars usually make when eating them with more defences. Future applications of this research could be in making pesticides. Dr Rex Cocroft and Dr Heidi Appel, at the University of Missouri, tell Jack Stewart about their research on how Arabidopsis, a small flowering plant related to cabbage and mustard, reacts when munched by caterpillars.
What Is Killing Us?
Over half the world's deaths go unrecorded, but without knowing what kill us countries can't plan their health services properly. Suhail Haleem reports on India's One Million Deaths Study, which has generated both surprising and controversial results that have important implications for healthcare in India.
Robot Swarms
Adam Hart looks at how new developments in understanding insect behaviour, plant cell growth and sub cellular organisation are influencing research into developing robot swarms. Taking inspiration from termites, marine animals and even plants, European researchers are developing autonomous robot swarms, setting them increasingly difficult challenges, such as navigating a maze or searching for an object.
BrainWriter
A few years ago Mick Ebeling and his team at Not Impossible Labs dreamed up the impossible for a paralysed artist. They developed a tool that would enable him to draw by blinking his eye. Ebeling's team have now embarked on developing a new tool that will, by monitoring the artist's brain waves, enable him to draw as his eyelid movement lessens.
Image: A nurse from 'Medecins Sans Frontieres' examines a patient at a center for victims of the Ebola virus in Guekedou, Guinea on April 1, 2014. Image credit: SEYLLOU/AFP/Getty Images.
Last on
Sun 20 Jul 2014
13:06

GMT