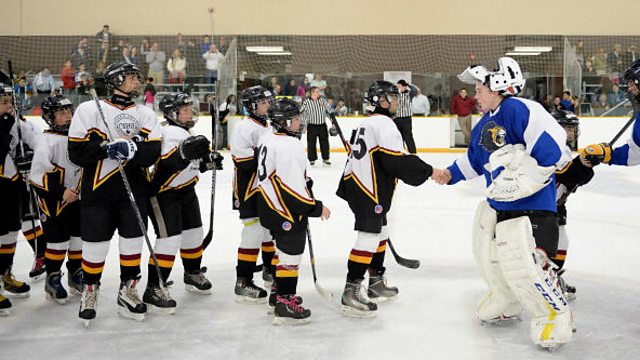 Peace Puck
In a week that has seen more violence in the Israeli-Palestinian conflict we hear how people on both sides have come together through the sport of ice hockey to offer hope of peace and reconciliation.
Paddle 'til you Puke:
The Oldershaw family have a rich Olympic tradition. Since 1948 they have provided a long line of Canadian Olympic kayakers. They train hard and their family motto is "Paddle til you puke." That's been amended slightly ahead of the Commonwealth Games as Mari Oldershaw is representing her country in swimming. We speak to her and dad Dean who is proud she "swims 'til she's sick!"
World Cup to Washing Up:
One Saturday morning at the end of June the people of Tehran woke up to a new piece of graffiti; A woman in the Iran national football kit holding aloft what seems to be the World Cup, but on closer inspection it is a bottle of washing-up liquid gripped in her soapy gloved hands. The image went viral on social media and has become a symbol of the struggle for women's equality in Iran, particularly in the area of sport where women are band from attending matches. We investigate
Burger Queen:
Lanni Marchant describes herself on twitter as "American criminal trial lawyer, burger connoisseur, & lover of beer" She also happens to be the Canadian Marathon record holder... It's the combination of all those things that has driven her to speak out about a health body image for women.
Open Inspiration:
Golf mad Ben and Rhys Enoch grew up sharing the same sporting dream, to tee off at The Open. Sadly Ben was killed aged 19 and now 5 years later Rhys is fulfilling his promise after successfully qualifying having been inspired by his brother. Rhys tells us about the moment on course, on his way to winning his qualification that he knew his brother was there looking out for him.
Talent for Tweeting:
How a tweet by current Commonwealth gold medalist Jared Talent has prompted authorities to begin a major investigation into performance enhancing drugs.
Chinese Football:
They might not have made the World Cup in Brazil, but China has laid down a marker ahead of future tournaments by opening the world's biggest football academy. We take a look at facilities and have a kick about on one of the 72 pitches.
Sporting Witness heads into the mountains going back to one of the most infamous incidents in the history of the Tour De France - the moment a spectator hit the great Belgian rider, Eddy Merckx, in the stomach as he struggled on a grueling climb.
PHOTO: The Canada Israel Hockey School after a game (CREDIT: Jonathan Newton / The Washington Post via Getty Images)
Last on
Sat 19 Jul 2014
09:06

GMT
How both sides of Israeli-Palestinian conflict come together via ice hockey to offer hope