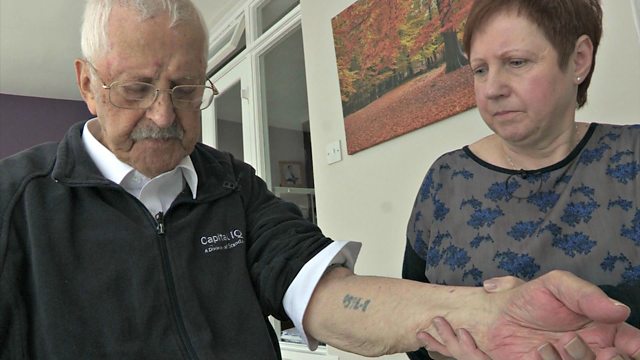 The Boys: Remembering the Holocaust
Listen in pop-out player
In 1945 the British government offered to allow 1,000 child survivors of the Nazi concentration camps to settle in the UK. The Nazi killing machine had been so brutal that only 732 could be found. With no families left to look after them, they were airlifted to Britain and rehabilitated together. They have been in close contact with each other ever since, serving as the family they had lost.
The Boys are getting old though and sadly dying off and the danger is that the survivors who bear the scars of the Holocaust will take the memories with them.
Jake Wallis Symons meets the Boys of 'The 45 Aid Society' to ask whether the Holocaust is something that could actually fade from memory, and whether there should be a Jewish religious holiday observed across the faith.
He meets Sue Bermange who was part of what she describes as a 'double-act' with her father, Bob Obuchowski, a holocaust survivor and another one of The Boys. Together, they visited dozens of schools, between them telling of how he survived first the Lodz ghetto and then Auschwitz and other concentration camps. It is a measure of Obuchowski's spirit that he managed to attend this year's reunion – in a wheelchair, just weeks before he died of terminal cancer in June. Now Bermange is determined to carry on without him. "I want to take over, and instead of doing an introduction I will be telling his story from start to finish using photos and slides," she announces. "When the last survivor doesn't speak anymore, the second generation will step in.
Wallis Symons asks whether a day of religious observance built into the Jewish calendar would ensure the Holocaust story is told for the future generations. The Chief Rabbi of the UK Ephraim Mirvis tells him that, because of the diversity of the faith, there would never be a total agreement on a religious holiday but that the Holocaust is remembered 365 days a year by Jews around the world.
Last on
Mon 21 Jul 2014
23:32

GMT