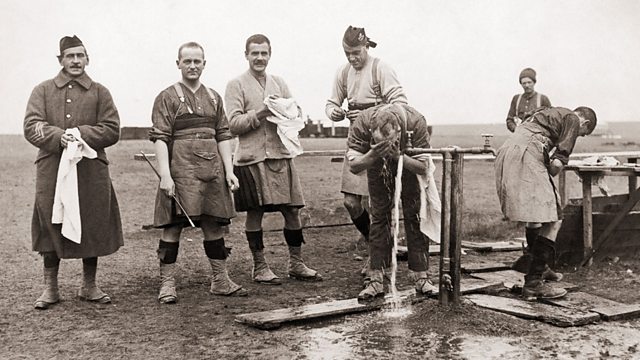 Tilshead, Wiltshire: Winnie the Pooh on Salisbury Plain
What's the connection between Winnie the Pooh, one of the world's best loved children's characters, and Salisbury Plain?
The story begins on 24 August 1914; Canadian army officer, Lieutenant Harry Colebourn, who was a veterinary officer serving with the Canadian Army Veterinary Corps unit, was travelling across Canada to sail to England when their train stopped to refuel at White River in Ontario. Harry met a trapper who had a small, female, black bear cub with him. Perhaps taking pity on the animal, he bought the cub for $20 and named it 'Winnie' after his home town, Winnipeg.
The bear stayed by his side from then on for the remainder of the journey across Canada, across the Atlantic and on to Salisbury Plain where thousands of Canadian troops were billeted. It was in October 1914 that Winnie's stay on Salisbury Plain began.
The friendly bear cub became an unofficial pet to the headquarters unit of the Second Canadian Infantry Brigade, to which Colebourn was now attached. It's said that Winnie would follow soldiers around the camp like 'a tame dog' and that she slept under Colebourn's bed every night. Winnie would climb the central pole of his tent, and poles specially erected outside, much to the amusement of the soldiers.
Colonel Neil Smith, the Director of Army Veterinary and Remount Services for the modern British Army, says Winnie would have been good for morale as well: "You can imagine these young soldiers, all far away from home, and not knowing what was going to happen to them when they went to France to fight. The soldiers liked to feed her and spend time with her, talking to her perhaps. After all, a bear doesn't tell stories to anyone else."
However, when orders for Colebourn's unit to move to France came through, he decided he couldn't take Winnie with him.
In early December 1914, Winnie accompanied her master to London Zoo, where she stayed supposedly until the end of the war. Until the end of the war, Harry's intention was to take Winnie back to Canada, and did visit the bear cub when home on leave from the front.
The end of the war brought a temporary stay in England for Harry, and it's during this period that he changed his mind about taking Winnie home with him. The staff at London Zoo had looked after Winnie so well and she seemed so happy there that he decided to donate her to the zoo in 1919.
Winnie was described as one of the tamest and best behaved bears at the zoo, and one which could always be trusted.
Winnie was a popular attraction and two of her frequent visitors were a certain AA Milne and his young son, Christopher Robin. In 1926, Milne published the first of his Pooh stories; "Winnie-the-Pooh", inspired by his son's love of the bear.
Winnie died at London Zoo in 1934 aged 20 years.
Location: Salibury Plain, Tilshead, WIltshire SP3 4RS
Photo shows a group of Canadian soldiers on Salisbury Plain. Image: Getty
Featured in...
Places in Wiltshire that tell a story of World War One

ANZAC and Commonwealth troops