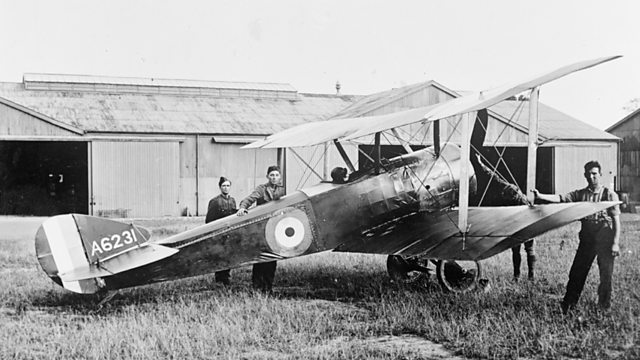 Upavon, Wiltshire: Pilot Training During WW1
"My dear Hilda, Just a short note to let you know that I arrived very much OK last evening but sorry to say it was raining…"
So begin the letters of 28-year-old Jack Booth after his arrival at Upavon in Wiltshire. The 2nd Lt, from Toronto in Canada, arrived in July 1917 as another candidate of the Royal Flying Corps' Central Flying School.
His writings are included in the personal papers of Hilda Gosling, which are now archived in the Imperial War Museum. Jack was obviously quite taken with Hilda but we'll never know if he was aware he was one among a number of potential suitors. Hilda's papers include letters from three other men.
Jack's excitement at his training is evident when he writes to Hilda about a 'red letter day' for him.
"I did a solo this morning on a Sopwith 'pup' and they are certainly a lovely little bus to fly. This solo is different from the others because in previous ones you take off and make 1 circuit and land usually about 9 minutes but this time he says oh stay up about 30 or 40 minutes and get quite used to the machine before you land."
However, Jack's first flight on his own – a solo - was marred by what he evidently thinks are poor attitudes towards training.
"When I got out the OC [Officer Commanding] says, 'Well, how do you like it?' Of course I said 'fine'. He says, 'did you loop it?' I said 'no'. Then he says, 'Well, why didn't you?' I said, 'When I get shown how to do it and I get the sensation then I'll do all you like but not before'. Then he said 'Well we never have to show pupils that, in this flight. They always go up and loop, etc'. Incidentally we had 3 fellows killed here on Saturday and 3 others badly crashed so I looked at him and said 'Well I'm not all the others. I'm just myself and loop or no loop I'm not going to have a lot of fellows walking slow behind me if I can help it. And I'm not going to shove a machine into something I don't know what it feels like then have a crash just because somebody tried to tell me verbally."
Jack says the officer walked away, 'quite peeved' but after lunch told him to report to a Captain Davies for a course on stunts. Jack was about to be trained the way he wanted:
"He asked me how many stunts I had done. I replied none. He smiled and I said to myself 'good bye dinner'. Well I got in the back seat and before I knew it we were turning circles at 80 miles an hour in a vertical position. We turned about 10 times with the sky and earth making a long line and the farm fields were going by like pickets on a fence."
Wing Commander (Rtd) Jeff Jefford is the editor of the RAF Historical Society Journal. He says that Jack's experience is typical of how training was carried out.
"It was only towards the end of the war that effective training methods were brought into play. When Jack Booth was at Upavon, home to the Central Flying school though it may have been, he's still evidently under a fairly primitive training regime. You'd fly straights, then just do simple turns and then be sent solo, after as little as two hours. After that, it was practically a question of learning from your own mistakes; there was little further close instruction once you'd gone solo. And the accident rate was pretty horrendous."
But Jack's time at Upavon, which was a training airfield, wasn't always exciting. He speaks of things being 'very slow' and that his time is sure to 'hang very heavy'. This led to unsatisfying trips which only stoked his desire to improve his entertainment prospects.
"There is another dance tonight at Devizes and quite a few of the boys are going but not me. Once in that crowd was enough. They could not even do a plain waltz or two-step and not one fox trot or one step on the programme. A chap named Rowatt and myself had a little meeting to ourselves last night and half decided to run a dance at least we decided to go to either Devizes or Pewsey and see what we can rent the Hall for, we shall use some Red Cross argument and possibly get the hall for nothing or very little, then the RFC have an excellent 10 piece orchestra which we may be able to get then we shall get busy and get an idea of how many will go. And believe me there will only be one set of Lancers and the remainder will be waltzes, one steps and fox trots, no more of these square dances. They died a natural death years ago."
The letter written to Hilda, dated 20 November, isn't in Jack's handwriting. It's from another officer, R J Cole. who informs her of his death.
2nd Lt Jack Booth, RFC, was in Number 2 Aircraft Supply Depot. Attached to the depot was the pool for pilots just arrived in France awaiting posting to an operational squadron.
He is buried in Etaples, France.
Location: RFC Central Flying School, Upavon, WIltshire
Image: 2nd Lt Jack Booth, Royal Flying Corps, courtesy of Imperial War Museums
Featured in...
Places in Wiltshire that tell a story of World War One

Zeppelin raids and aviation heroics