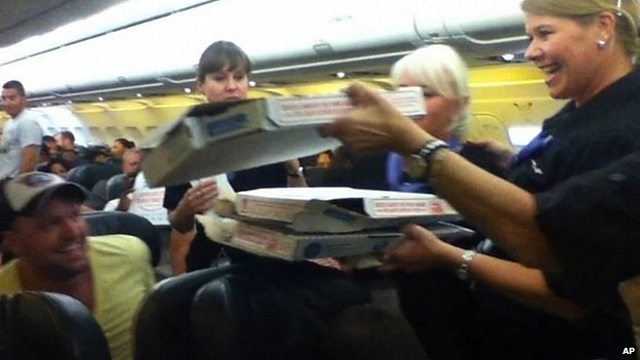 'I'm no hero': Pilot bought pizza for 160 passengers
"A US pilot stunned all 160 passengers on board his flight when he bought them 50 pizzas, after they were stuck on the tarmac for two hours.
Captain Gerhard Bradner, who flies for Frontier Airlines, told Phil Williams that he views his passengers as part of his ""extended family"", and said that he hoped everyone had got off his plane with ""a smile on their face"".
Since the story had hit the international media, he said the President of his airline had called him and offered to reimburse him for the cost of the pizzas, but that that wasn't why he'd done it.
Oh, and in case you were wondering, he ordered a mix of pepperoni and cheese."
This clip is originally from Phil Williams, 9 July 2014