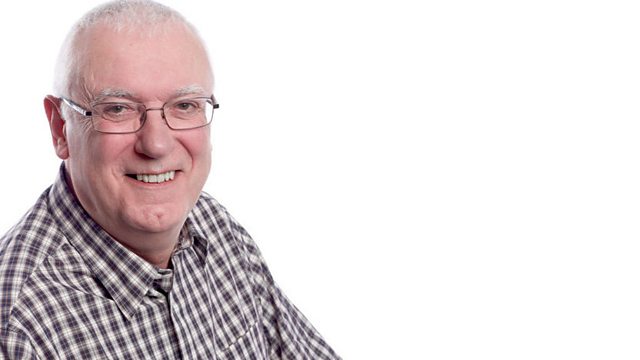 The Cartridge Years: July 1965, 1976 and 2006
This week Richard turns back the clock with the hits and local headlines from July 1965, 1976 and 2006. And he plays three tracks from The Lighthouse Family's 1996 album 'Ocean Drive'
Richard highlights some of the lighter stories of the week that you may have missed, reviews some of the recent surveys and looks ahead to the news for Monday.
It's the perfect way to spend a Sunday afternoon.
There is a choice of listening this Sunday afternoon. Richard is on FM, 1359AM, digital radio and online. And there is ball by ball cricket commentary as Hampshire face Somerset on AM, Hampshire DAB and online.
Last on
July 1965
Train robber Ronnie Biggs and three others escaped from Wandsworth prison.
Hollywood stuntman Paul Mantz was killed whilst filming.
An RAF training aircraft crashed in Oxford.
A bomb exploded ouside the American Express offices in Piccadilly.
'The Londoner' cross Channel car ferry made it's maiden voyage between Dover & Calais.
The government announced a scheme for quicker conveyancing of houses, which they hoped would eventually see a 25% saving of lawyer's fees.
The government announced plans for the introduction of a blood alcohol limit for drivers in its clampdown on drink-driving.
There were hysterical scenes in the UK as The Beatles came home following their European tour.
The Indian city of Calcutta was deluged by flood waters after five hours of rain.
Jim Clarke won the British Grand Prix at Silverstone.
Peter Thompson won the open golf at Royal Birkdale
England were playing New Zealand in the 3rd test
July 1976
Many acres of trees were destroyed and camp sites were threatened, as a fire broke out in the new Forest.
Blind sailors were undergoing a seamanship course in Poole harbour.
Radio One DJs Paul Burnett and Tony Blackburn were in Southsea with the BBC One  variety show 'Seaside Special'.
Southsea hosted a rowing regatta hosted over 200 teams in a rowing regatta.
The 36th Southampton show was held in the city.
Arthur Skingle, who escaped from Parkhurst Prison was re-arrested.
There was opposition to the proposed M27 motorway at the inquiry in Eastleigh.
The great heat wave reached its peak.
Donald Neilson - known as The Black Panther was on trial for the murder of 3 postmasters.  He had already been found guilty of murder of Lesley Whittle.
Prime Minister James Callaghan made a plea for the lives of four mercenaries who had been held captive in Angola. News of their execution was released a few hours later.
Former Prime Minister Harold MacMillan left hospital after a blood infection.
The Schools Council urged the government to replace the present GCE O-level & CSE exams with a new common exam to be taken at age 16.
£2 million of foreign currency was stolen in a raid at Heathrow airport.
HM The Queen visited a Harlem shop as part of her tour to mark America's bi-centenery.
Matsushita introduces the VHS home video cassette recorder to compete with Sony's Betamax system.
Johnny Miller won the British Open Golf championships, beating Severiano Ballesteros.
England were all out for 71 in the test match against the West Indies. 
July 2006
£1 Million was stolen from a Dorchester company by an employee to fund his gambling addiction.
Passengers on a double decker bus in Southampton had a lucky escape after it hit a low bridge on Canute Road, slicing off the top deck. 
It was revealed that volunteers of the Coastguard Rescue Teams on the Isle of Wight last year dealt with 84 incidents, this year they've already had 64 calls.
Portsmouth FC Chairman Milan Mandaric said he was selling his controlling stake in the company.
Isle of Wight film director Anthony Minghella received an honorary degree of letters from the University of Reading.
1500 knifes and other weapons were handed in during an amnesty in Dorset.
The white horse at Osmington was undergoing a clean up.
Patrols were increased after a number of beach huts in Bournemouth were vandalised.
Former Manchester City striker Nicholas Ankela claimed that Portsmouth had made an £8 million pound bid for him. 
The Isle of Wight was awarded the 2011 Island Games.
Southampton fans will be watching Pele next season, a Portuguese player who's called 'Pele' for short. The defender has signed at St Mary's subject to international clearance.
750, 000 people in South Hampshire could be the first in the country to be allowed to generate their own energy using micro turbines after a pioneering agreement was drawn up between council planning departments.
Leading experts expressed concern that junior doctors may be putting patients at risk because they know too little about the drugs they are prescribing.
For an eighth day, Israeli forces bombed targets in Lebanon, killing at least forty people. 
Fifteen top officials are being removed from their posts as Home Secretary John Reid announced the biggest shake-up in his department's history.
Roads melted, rail lines buckled and elephants were hosed down in Twycross zoo on the hottest July day ever recorded.
HM The Queen and Prince Phillip were guests at a BBC Proms concert to celebrate her Majesty's 80th birthday.