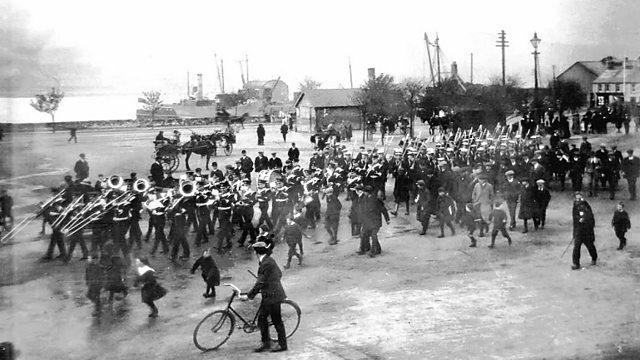 Warrenpoint, Co Down: All Ireland Recruitment Rally
The small town of Warrenpoint sits on the shore of Carlingford Lough.
Before the outbreak of war it was a tourist mecca - excellent railway links bringing holidaymakers to this glorious gateway to the Mournes. Indeed, it was said that Warrenpoint's roller-skating rink was the most advanced indoor amusement park in Ireland!
But on 7th July 1915 the town attracted visitors for an altogether different reason.
Massive casualties at the front had left the army desperate for fresh troops. Warrenpoint was deemed the ideal spot for a spectacular day of recruitment. On this one remarkable occasion nationalists and unionists shared the same platform with the same message - join up!
Dr Gavin Hughes, of Trinity College Dublin, has studied newspaper accounts of the event and takes up the story. The reader is David Olver.
Location: Warrenpoint, BT34 3HN
Image of recruitment rally in Warrenpoint, 1915
Image courtesy of Old Warrenpoint Forum
Featured in...
How the army prepared the nation for conflict

Places in the UK and Ireland that tell a story of World War One