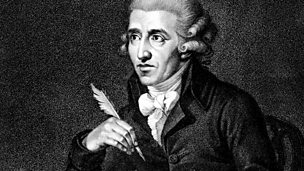 Joseph Haydn
Duration: 46:47
Donald Macleod introduces Joseph Haydn, a composer who was more famous in his lifetime than Mozart or Beethoven, and who has since become known as the first great master of the string quartet and the so-called 'father of the symphony'. Donald investigates many aspects of Haydn's turbulent personality, including commercial opportunism, double dealing, penny pinching and matrimonial misery. Each programme also features an important Haydn symphony.

"As head of an orchestra I could experiment, observe what heightened the effect and what weakened it, and so could improve, expand, cut, take risks. I was cut off from the world, there was no one near me to torment me or make me doubt myself, and so I had to become original." Donald Macleod investigates what working ay the court of Esterházy meant for Haydn.

Donald Macleod explores Haydn's Catholic faith, including how he was nearly castrated as a choirboy. The young composer's sense of mischief curtailed his career as a young singer at St Stephen's Cathedral in Vienna, when he cut off another boy's pigtail in a prank. His later career, though, demonstrated devout faith, with powerful religious drama conveyed in many works, including a depiction of the earthquake which followed Christ's death on the cross.

Haydn is tempted to London by the impresario Johann Peter Salomon and becomes a sought-after celebrity, composing a dozen symphonies which contain some of his finest music. The English capital was much more important in building the composer's fame and legacy than his home of Vienna, as Donald Macleod discovers.

Donald Macleod discovers why Haydn was not such a Viennese composer, only living in the city at the beginning and end of his career. His relationship with the city was a fitful, troublesome one, from what he described himself as his 'wretched existence' as a student musician, to his last moments in this world, lying on his deathbed, as Napoleon's artillery battalions bombarded the city and cannon shot blasted his neighbourhood. "My children," Haydn is said to have told his anxious servants during his final hours, "have no fear, for where Haydn is, no harm can fall.".
Available since: Fri 20 Jun 2014
This clip is from
Donald Macleod investigates many aspects of Haydn's turbulent personality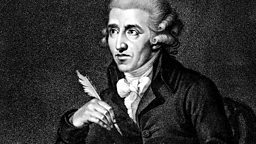 Featured in...
Listen to programmes examining the life and works of Joseph Haydn.

More programmes related to the series: The Story of Music in 50 Pieces
More clips from Joseph Haydn (1732-1809)