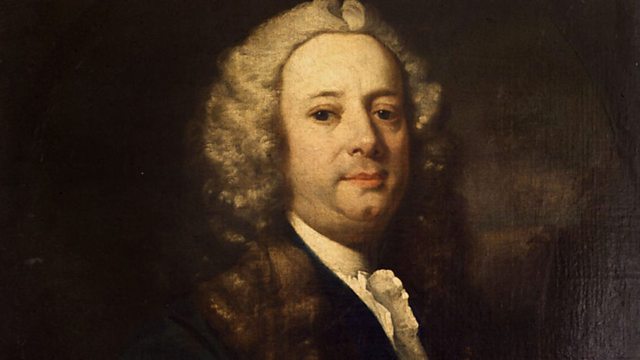 Francesco Geminiani
Francesco Geminiani was considered something of a musical god, deemed to be the equal of Handel and Corelli, a master without parallel in the art of composition in 18th century London - Donald Macleod traces the life and music of this now largely forgotten composer.
Geminiani's life began in Lucca, initially learning the violin from his father, then on to lessons with Il Gobbo - "the Hunchback". He'd also go on to be tutored by two Arcadian masters, counterpoint with Alessandro Scarlatti, and additional violin lessons with Corelli.
On arrival in London in 1714, Geminiani would launch himself into print with his own arrangements of works by Corelli. People who wanted to be considered to be someone of note would undertake the Grand Tour of Italy, where they would come across the music of Corelli. Subsequently, Corelli was hugely popular in England, and any musician who could claim some sort of lineage to the Italian master, was sure of a flourishing career. Soon Geminiani would soon be presented to King George I, accompanied at the harpsichord by Handel.
Throughout his career, Geminiani would be celebrated not only as a composer, but also as a performer. Tartini would name him Il Furibondo, the 'wild' or 'furious' one. Due to his excellence as a performer, his compositions were sometimes far too advanced for the public to perform. However, his opus 2 and opus 3 Concerti grossi would become his most popular pieces, often performed in concert halls and also between the acts of stage works.
Another enterprise of Geminiani's was the writing of a number of Treaties, such as on accompaniment, or The Art of Playing the Guitar. His publication entitled The Art of Playing the Violin would become as popular as his opus 3 set. It was the first work of its kind, intended for professionals to standardise playing the violin. This Treaty, including its 'Geminiani Grip', has influenced performers today and is an invaluable source for understanding the Italian School of music from that period.
Geminiani travelled for much of his life between London, Paris and Dublin, seeking the next project to launch himself into. Although he was deemed great by some, a "God" amongst musicians, many of his publications were in fact financial failures. He was also nicknamed a 'Reheater', on account of the amount of times he would publish the same work, revised or arranged for different instruments. He died in 1762 in Dublin, yet despite the unsettled financial nature of his career, he remained as popular as ever in England up until 1800, especially with his Opus 3 Concerto grossi.