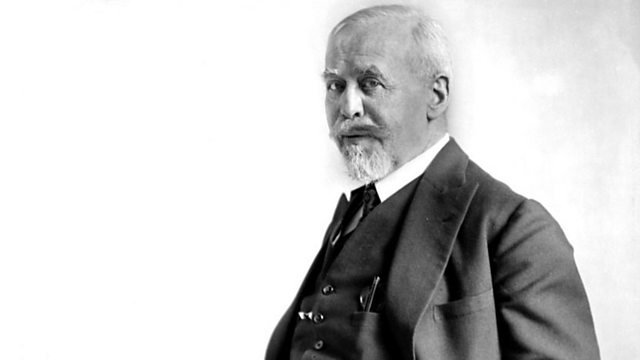 Paul Dukas
When Walt Disney matched up Paul Dukas' symphonic poem "The Sorcerer's Apprenctice" with Mickey Mouse in the classic film animation "Fantasia", he brought Dukas a fame the French composer had never experienced in his lifetime.
It's perhaps rather unfair that his reputation rests virtually on just one piece, although it becomes more understandable when one considers that he was a composer who was forever discarding his efforts, revising and reducing to such an extent, fewer than twenty works remain. Nonetheless during his lifetime Dukas was an influential voice in musical circles, comfortably sharing his time between roles as a musicologist, music critic and teacher. The roll-call of his students is impressive, including Jehan Alain, Maurice Duruflé, Jean Langlais and Olivier Messaien. As a Parisian born and bred, whose career coincided with la belle époque in French culture, he knew, personally, all the significant figures in France's musical life at this time, Fauré, d'Indy, Chausson, Chabrier and Debussy, whom he first met as a student at the Paris Conservatoire, were among the composers, but he also knew all the important musicians and literary and artistic figures too. They all seem to have appreciated his intelligence during this period of dramatic aesthetic change. Through his musical criticism he promoted the composers he admired, Rameau, Gluck Wagner and his friend Debussy. Both Debussy and Fauré appreciated his incisive writing, which Fauré described as being "remarkable, instructive and zesty"!
As a young man Paul Dukas belonged to a rising generation of French composers who were keen to write instrumental music. He was following in the footsteps of Liszt and Berlioz, and more recently Saint-Saëns, César Franck, whom he admired greatly, and Vincent d'Indy, who was an admirer of Dukas's music. He began by writing several symphonic poems, but in 1896 produced his one and only contribution to symphonic form. At the turn of the twentieth century, artistic salons and the emergence of several musical societies gave composers such as Paul Dukas regular outlets for their music to be performed. Yet despite the burgeoning possibilities, very few composers produced piano sonatas until Dukas made his sole contribution to the form, making both critical waves and a blueprint for later composers.
Paul Dukas' scholarship and work as a music critic may well have encouraged him to compose the Variations, Interlude and Finale on a theme by Rameau. But the diversity of Dukas' activities also probably contributed to the long gestation period for his only opera, Ariane et Barbe-bleue, hailed by Vincent d'Indy as the most important piece of theatrical music since Wagner's music-dramas! Despite the success of his poème dansé La Péri in 1912, Dukas, who lived for a further twenty-three years, failed to produce any further large scale works. Donald Macleod considers why Dukas turned to other activities as a pedagogue and a music critic.