Forgiveness
Samira Ahmed explores the complexity of forgiveness. What effect does it have in the aftermath of violent crime, conflict or injustice? Is it possible without remorse and is there any crime that is beyond forgiveness? With the Rev'd Mpho Tutu, co-author with her father Archbishop Desmond Tutu of a book about forgiving; author and teacher Michael McGirr, and Marina Cantacuzino, former journalist and founder of The Forgiveness Project.
(Image: Hands stretched out with palms upright. Credit: AFP/ Getty Images)
Last on
Mon 23 Jun 2014
02:06

GMT
Mpho Tutu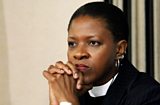 The Rev'd Mpho Tutu is an Episcopal Priest, executive director of The Desmond & Leah Tutu Legacy Foundation and Chairperson Emeritus of the board of the Global AIDS Alliance. She has run ministries for rape survivors in South Africa; for refugees from South Africa and Namibia at the Phelps Stokes Fund in New York City, and for children all over the world.   She is co-author with her father, Archbishop Desmond Tutu of The Book of Forgiving (published by William Collins).  Here she writes about her own call to forgiveness when she discovered the battered body of her housekeeper on the floor of her daughter's room.  The event continues to reverberate for her and her family.  Mpho says that forgiveness is not weakness.  There is nothing that cannot be forgiven and there is no one undeserving of forgiveness.  Photo credit: AFP/ Getty Images
Michael McGirr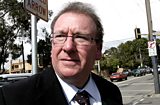 Michael McGirr  Australian writer, teacher and former Roman Catholic priest.  He is author of Things You Get For Free, a memoir of a journey he takes around Europe with his Mother on the honeymoon she and her late husband never got round to having  (published in the UK by Scribe Books).  Of forgiveness he says: it is like  putting down a burden.  It's the point at which you've been saddled with something hard to carry and you finally put down the load.
Marina Cantacuzino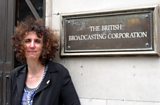 Marina Cantacuzino is founder and director of The Forgiveness Project.  Having worked as a journalist for many years she knew she was far more moved by stories of forgiveness than revenge. In 2003, in response to the imminent invasion of Iraq, Marina embarked on a personal project collecting stories in words and pictures of people who had lived through violence, tragedy or injustice and had sought forgiveness rather than revenge. These became part of the Forgiveness Project.  In addition Marina works alongside offenders in prisons in England and Wales on restorative justice and victim awareness programmes.  Marina explains how forgiveness is about making peace with something or someone you cannot change, and she discusses how the project is currently involved in tackling prisoner re-offending rates.
60 Second Idea to Improve the World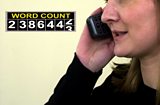 Michael McGirr wants every human to have a life-time word limit.  He argues that we are all drowning in words and that we can't hear anything of importance because the words are lost in all the chatter.  The average person is said to use 365 million words in a lifetime.  Michael's new limit would be 4.6 million words which is approximately the number of words that the nineteenth century British social commentator and novelist Charles Dickens wrote in his lifetime.  Michael recommends a word-counter implant in every-human being.