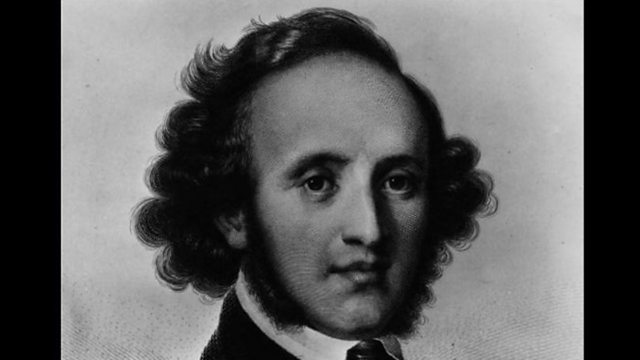 Felix Mendelssohn
Donald Macleod examines the major influences upon the life of Mendelssohn.
He begins by exploring Mendelssohn's formative years, leading up to an unprecedented chamber masterpiece - the Octet in E flat. Mendelssohn grew up in a wealthy, privileged environment, and his musical talent was nurtured by his parents and a series of distinguished teachers. The result - a prolific number of accomplished works by the age of 16.
In the 1820s, the Mendelssohn household was a hive of conversational, intellectual and creative activity. Felix and his siblings, Fanny, Rebecka and Paul, shared a happy, magical childhood. Donald Macleod looks at the impact this closeness had on Felix Mendelssohn's compositions.
Donald Macleod considers how Mendelssohn took inspiration for his music from women, wine and the wild wonder of Fingal's Cave. With a strong romantic spirit, he composed works of great passion, often in the intimate world of chamber music.
Throughout his life Mendelssohn championed the music of his predecessors, including a remarkable revival of Bach's St Matthew Passion in 1829. Donald Macleod investigates this driving force, as well as Mendelssohn's obsessive revisions of his own compositions.
The musical world described Mendelssohn's death as 'the eclipse of music', yet the posthumous attitude to his work has often been derogatory. Donald Macleod charts the composer's final years, from the death of his beloved sister, Fanny, to his own in 1847 and his remarkable legacy, exemplified by his Violin Concerto in E minor.
Featured in...
Listen to programmes examining the life and works of Felix Mendelssohn.

More programmes related to the series: The Story of Music in 50 Pieces