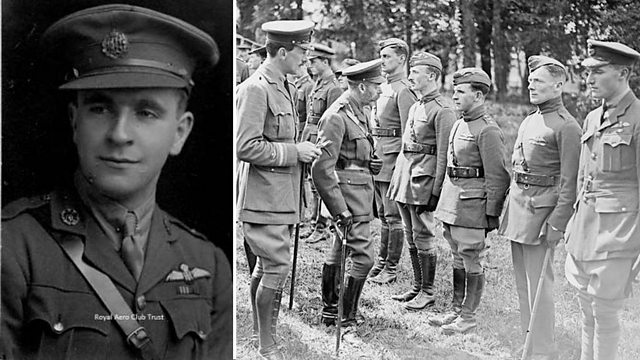 Llanddowror, Carmarthen: Ira Jones, Wales' Most Intrepid Airman
Ira Jones started the war a short, stuttering rugby player and wireless operator: he ended it walking tall as one of Wales' greatest air-aces, with some 40 kills to his name in a period of only 4 months. This rate of attrition far exceed that of the Red Baron, whose total was 80 in 3 years, and while Von Richtofen was eventually killed, Ira Jones survived the war unscathed, and even volunteered for service in WW2.
The illegitimate son of a Carmarthenshire farmer, Ira Jones (full name James Thomas Ira Jones, or 'Taffy') was born in 1896 at Woolstone Farm near Llanddowror and St Clears.
A short man of only 5'4" he was also afflicted with a terrible stammer. Nevertheless, as a farmer's boy, he was a first class shot, and also a handy rugby player – skills which would both prove invaluable during his time in the RAF.
He first enlisted in the Territorial Army in 1913, and by the outbreak of war Jones, who by then was studying telegraphy, transferred to the Royal Flying Corps. There he made his way up through the ranks, going from wireless 'mechanic' to observer in two-seater planes in 1915, before flying his own deadly solo combat missions in 1918, and becoming flight commander.
To survive the war was remarkable enough for a pilot officer, but Jones was also to become one of the RFC's (and later the RAF's) most highly decorated heroes – not that this deterred one officious Cardiff policeman from trying to arrest him as a possible deserter!
Captain Jones wore the MM, the DSO, the DFC, the MC, and later still a bar to his DFC. One of his proudest moments was to receive even a Russian medal, the Order of St George – although he had very little idea how he had come by it.
Ira Jones (so called because he had been born during a snowstorm, 'Ira' being an Anglicisation of the Welsh word for snow, 'eira') returned to Carmarthenshire, and even volunteered to fly missions during WW2. He died after a domestic accident in 1960, and is buried in Cana Chapel, Bancyfelin, near Carmarthen, just a few miles from his birthplace.
Location: Llanddowror, Carmarthen, SA33 4EU
Image left: James Thomas Ira Jones in uniform courtesy of the Royal Aero Club Trust
Image right: Ira Jones meeting the King courtesy of the Imperial War Museum
Featured in...
Places in Wales that tell a story of World War One

Zeppelin raids and aviation heroics