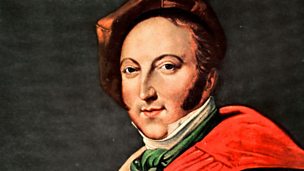 Gioachino Rossini
Duration: 1:03:03
Donald Macleod introduces the life and music of the Italian composer who wrote 39 operas, as well as sacred and chamber music. His best known works include Il barbiere di Siviglia and Guillaume Tell

Rossini's operatic career got underway in 1810 with La cambiale di matrimonio – the first, melodious gust of a musical whirlwind that was to blow unabated for 20 years, then die down as abruptly as it had sprung up. When he retired from operatic composition at the age of 37, he had more than three dozen operas to his credit, yet relatively few of them have kept a place in the repertoire. Donald Macleod turns his attention to Rossini's forgotten operatic masterpieces.

Rossini moved to Naples, then the capital of the operatic world. There he met the prima donna who was to become his own, personal prima donna – Isabella Colbran, later Mrs Rossini. In Vienna he met Beethoven, who told him to stick to comedy; happily, Rossini respectfully ignored the advice.

Rossini is often characterized as lazy; in fact 'workaholic' would be a more accurate description. 'He has toiled long and wearily enough', wrote his father in a letter of 1827, referring to the composer's almost superhuman productivity over the previous decade and a half.
Available since: Thu 5 Jun 2014
This clip is from
Donald Macleod introduces the life and music of the Italian composer who wrote 39 operas