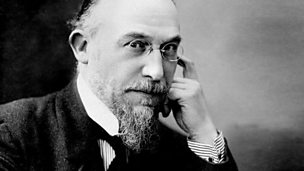 Erik Satie
Duration: 1:04:46
Donald Macleod explores the life and work of Erik Satie, beginning with his early life - from his youth in the sleepy seaside town of Honfleur to the boozy dives of bohemian Montmartre.

In the 1890s, Satie reinvented himself as a holy man - a self-imposed outcast from the 'wicked' musical establishment. After a brief spell as the composer for a Christian cult, he set up his own church, studied mystical volumes in Paris's National Library and penned vitriolic articles in his own magazine (average circulation: 1).

In 1905, Satie renounced his bohemian lifestyle and decided, rather improbably, to go back to school at the age of 39. After two years of hard graft, he graduated with flying colours - and with typical perversity, set about composing some of the most surreal piano works ever written.

Donald Macleod concludes his exploration of the life and work of Erik Satie, concentrating on the composer's momentous last decade. By the early 1920s, Satie was the toast of Paris. Having been spotted by the legendary impresario Jean Cocteau, he found himself working with the likes of Picasso and hailed by a new generation as 'the Prince Of Musicians'. The composer had also invented 'furniture music' - designed to work unnoticed as interior decoration, a little like modern Muzak.
Available since: Thu 5 Jun 2014
This clip is from
Donald Macleod explores the life and work of the engimatic composer Erik Satie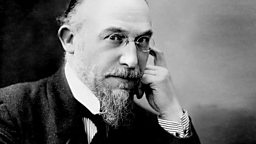 Featured in...
More programmes related to the series: The Story of Music in 50 Pieces
More clips from Erik Satie (1866-1925)