South Korea: Sex in the Sunset Years
It is the generation that raised South Korea from the ashes of war to one of the richest, most technologically advanced countries on earth. Even without a Confucian tradition of filial piety, you would think they would at least be made comfortable in their old age. But they are not. South Korea has the highest rates of suicide and relative poverty among senior citizens in the rich world. For some this has meant finding a second career to make ends meet. In Jongmyo Park in Seoul, Lucy Williamson finds an old profession getting some surprising new recruits.
(Photo: A mural depicting an elderly man and woman kissing, taken in Seoul, South Korea. BBC copyright)
Last on
Thu 12 Jun 2014
23:32

GMT
Drinking and playing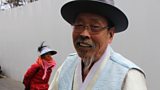 Here's the 82-year-old who told us he was out for an afternoon of 'drinking and playing' in Seoul's Jongmyo Park. Lots of retired men gather here for the same reason. They say it beats staying home alone. Now a growing number of older women are gathering as well - not to play, but to earn money by selling sex.