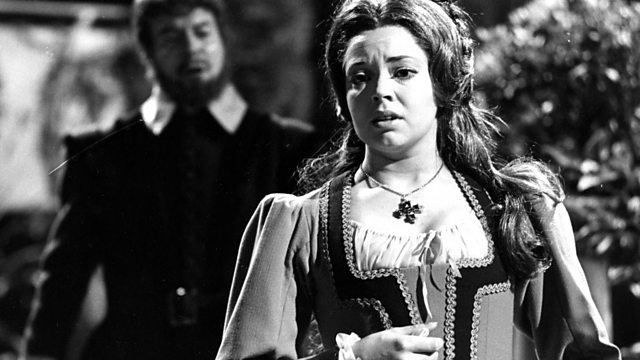 Verdi: Rigoletto
Stephen Johnson explores some of the ideas and music for one of the most popular and effective Italian operas of the 19th century, Verdi's Rigoletto.
Verdi composed this powerful drama for Venice between 1850 and 1851, and while critics were initially a little ambivalent, audiences immediately took the opera to their hearts. Since that time it has never been out of the repertory. It provides singers with some of the most inspiring and challenging roles in Romantic opera.
Stephen Johnson focuses on the final act of the opera and joins a cast of singers including Anthony Michaels-Moore as Rigoletto, Laura Claycomb as Gilda, Madeleine Shaw as Maddalena, David Soar as Sparafucile and Gwyn Hughes Jones as the Duke. They are joined by the BBC Symphony Orchestra and the BBC Singers conducted by Andrew Litton, and opera Director, Graham Vick. Together they examine some of Verdi's musical and theatrical achievements in a work that proved the turning point in his career.
Featured in...
Listen to programmes examining the life and works of Giuseppe Verdi.