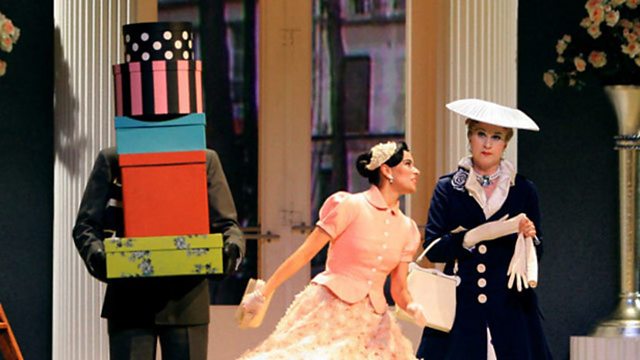 Opera-Comique
Opera-Comique can be a kind of opera, an institution or a building. All three have strong links with each other and specific characteristics which were quite different to the other types of opera on offer. Donald Macleod and his guest Karen Henson, an Assistant Professor at Columbia University with a special interest in French opera unravel the intricacies of nineteenth century Parisian operatic life.
0ver the course of the programme they'll be looking at some of the big names of the 19th century including Bizet, Massenet, and Boieldieu, who penned the runaway hit La dame blanche. Boieldieu's own life story could make him a character in one of his own op?-comiques.
Although Op?-Comique is often associated with nineteenth century exponents such as Boieldieu, Adam and Auber, its origins belong to much earlier times. Donald Macleod and guest Karen Henson discuss Op?-Comique's roots and look at its growth in the 18th century.
Napoleon was quick to recognise the political value in supporting the arts. His rationalisation of the theatres in Paris had a direct affect on Op?-Comique both as an organisation and as an operatic form.
The genesis of Paris's Th?re-Lyrique came from a group of like-minded composers and dramatists including Berlioz, Adolphe Adam and Ambroise Thomas. They petitioned the authorities to create a third opera house specifically dedicated to staging works of lesser known composers. When it finally became a reality, its repertoire came into direct competition with the long established Op?-Comique.
The demise of the Th?re-Lyrique and the destruction and subsequent rebuilding of the Op?-Comique saw an increase in productions of Op?-Comique in other Parisian theatres.
Donald Macleod and Karen Henson look at the developments in Op?-Comique on the cusp of the twentieth century.
Featured in...
What is a fugue? How do composers use rhythm and harmony? Find out more.