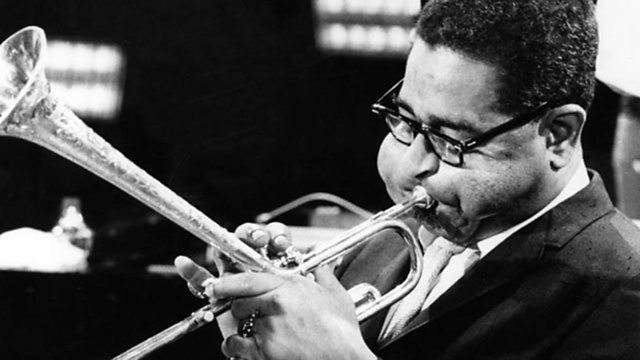 Bebop
Donald Macleod and special guest Geoffrey Smith begin by focusing on the 'yin and yang' of Bebop, Charlie Parker and the man he once referred to as 'the other half of my heartbeat', Dizzy Gillespie. Their three studio recordings - 'Dizzy Atmosphere', 'Now's the Time' and 'Koko' - galvanized the jazz world, both with the freshness and inventiveness of the musical language and the sheer virtuosity of the playing. Next we follow Parker and Gillespie on a trip to Los Angeles - an occasion notable both for the thrilling live concert they played there and for Parker's ensuing breakdown and stay in Camarillo State Hospital, where, after years of drug abuse, he underwent six months' psychiatric treatment; it would be several years before the two men collaborated again. In the meantime, Gillespie formed a big band and made a string of dazzlingly extrovert recordings; Parker's more reflective, introspective work from this time stands in stark contrast. Their last studio outing, was in June 1950. Parker, always sailing close to the wind, would be dead within five years; Gillespie carried on playing Bebop for another 40, even becoming a cultural ambassador for the US State Department along the way.
Donald Macleod and Geoffrey Smith visit the engine-room of jazz - the rhythm section - and in particular, Bebop's two key drummers, Kenny 'Klook-Mop' Clarke and Max Roach. Clarke's innovation was to shift the drummer's time-keeping function to the ride cymbal, leaving the snare and bass drum free to 'drop bombs' - unexpected offbeat accents - that perfectly complemented the way that the most innovative jazz musicians were beginning to play. In the event, Clarke was shipped off to Europe as part of the US contribution to the war effort, and he missed Bebop's explosion onto the scene in 1945. His shoes were filled by Max Roach, a percussion virtuoso who absorbed and extended Clarke's innovations. Donald Macleod and Geoffrey Smith explore the contributions of both men to a stellar sequence of recordings, with Charlie Christian, Charlie Parker, Dizzy Gillespie, Fats Navarro, Bud Powell, Thelonius Monk, Miles Davis, the Modern Jazz Quartet and Clifford Brown.
Macleod and guest turn to the 88 keys of the piano, under the phenomenal fingers of Bebop's two most influential pianists: Bud Powell and Thelonius Monk. The classically-trained Powell had a ferociously virtuosic style of playing. His personality, though, was shy and introverted, and there was something almost helpless about him. He had a tendency to drink to excess, and a formidable knack for getting into trouble. In 1945 he was beaten senseless by the Philadelphia police, an attack whose savagery left him with mental problems that dogged him for the rest of his all-too-brief life; he died in 1966, a couple of months short of his 42nd birthday. Powell and Monk met at Minton's Playhouse in Harlem, where Monk was house pianist in the early '40s, and they remained firm friends. We hear Monk's tribute to Powell, 'In Walked Bud', and Powell's reading of a Monk composition, 'Off Minor'. We also hear their very different readings of 'Tea for Two' - Powell's a wildly inventive hectic dash, like something from the Mad Hatter's Tea Party, Monk's much more spacious and angular. And to finish: 'Wee' from a celebrated live concert recording in which Powell played with Charlie Parker, Dizzy Gillespie, Charles Mingus and Max Roach; and a Monk tune, 'Little Rootie Tootie', in a magnificent arrangement for big band.
To conclude their exploration, they take a look beyond Bebop and explore the various shoots that have sprouted from the original stem, in the hands of such musicians as John Coltrane, Cecil Taylor, Miles Davis, Ornette Coleman, Eric Dolphy, Wynton Marsalis and finally Sonny Rollins, who brings us into the 21st century with his take on the Jerome Kern standard, 'Why Was I Born' - a live concert recording made in the immediate aftermath of 9/11.
Featured in...
What is a fugue? How do composers use rhythm and harmony? Find out more.