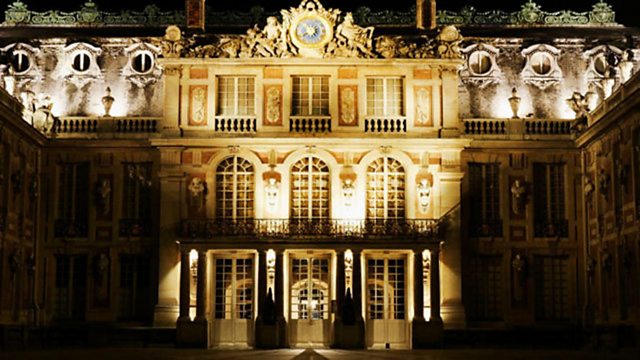 Music at Versailles
Donald Macleod meets baroque specialist Olivier Baumont at the Palace of Versailles. Together they walk through the landscaped elegance of the gardens, famous for their spectacular water features, where three of Louis XIV's biggest outdoor extravaganzas took place.
Donald Macleod and Olivier Baumont are joined by Hervé Niquet, to visit the Royal Chapel, Grand Apartments and the King's bedroom to discover what kinds of sacred and secular music were written for performance there during the reigns of Louis XIV and XV.
Next, they visit the Grande Écurie, home of the King's horses and the musicians of the Grande Écurie. There was no permanent theatre at the Palace, so the stables also played host to several spectacular theatrical shows. The musicians had to play at outdoors events but were also required to play during the King's supper and for big celebrations in the Royal Chapel.
The Peace Drawing Room was favoured by Louis XV's wife Marie Leszczynska for her musical soirées and the famous Hall of Mirrors, where Louis XIV met Jeanne-Antoinette Poisson d'Étoilles, soon to be Madame de Pompadour, at the Yew Tree Ball.
Across the park at the Palace of Versailles is the mansion which Louis XVI gave his wife Marie-Antoinette. A keen musician, she had a tiny theatre built there and took great pleasure in performing in stage productions with her inner circle of friends.
Featured in...
What is a fugue? How do composers use rhythm and harmony? Find out more.