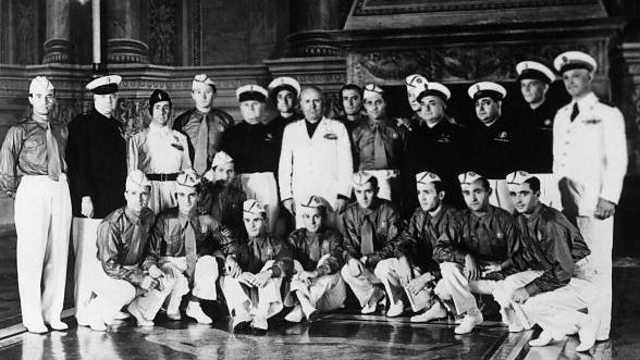 The World Cup - Beyond the Pitch
Ahead of the World Cup in Brazil we take a look at some of the most significant moments in the history of the competition, stories that reverberated well beyond the football field. From the 1938 black shirted Italian champions to the racial divide caused by scapegoating the 1950 Brazilian goalkeeper. We hear from both sides of the Berlin Wall on a remarkable bet made between a West German minister and the East German star striker during the 1974 World Cup, plus the bitter sweet Argentine celebrations during their 1978 victory under the military junta. We hear why the World Cup is so much more than just a football competition.
Solo Row
Elsa Hammond sets off this week on what many might consider a terrifying challenge - getting into a rowing boat and crossing an ocean, alone. She is hoping to become the youngest and fastest woman to cross from California to Hawaii, although alone she does have over 2000 women to inspire her. She explains all.
Crucial Cruciate
We speak to Dr Caroline Finch who is behind new research just released in Australia that shows women are six to eight times more likely than men to suffer anterior cruciate ligament injuries when playing sport. We examine why and what can be done to lower the risks.
No Home Sumo
Sumo wrestling is synonymous with Japan and yet it is struggling to attract young Japanese to the sport. It is a cause for concern to many but a source of opportunity to recruits from foreign countries such as Mongolia, Bulgaria and Russia, and in particular one from the US state of Hawaii.
On Your Bike
From fighting the flab to Commonwealth Games, we hear from Sara Byers the Canadian cyclist who, aged 30, used her bike to shed excess weight. Now 35 she is set to compete at the Games in Glasgow.
Sporting Witness
We hear from Michael Chang on the 25th anniversary of his victory at tennis French Open, a victory that coincided poignantly with the Tiananmen Square massacre.
(Picture: Benito Mussolini poses with the Italian national soccer team during a reception at the Palazzo Venezia in Rome after winning the 1938 World Cup in France. Credit: AFP/Getty Images)
Last on