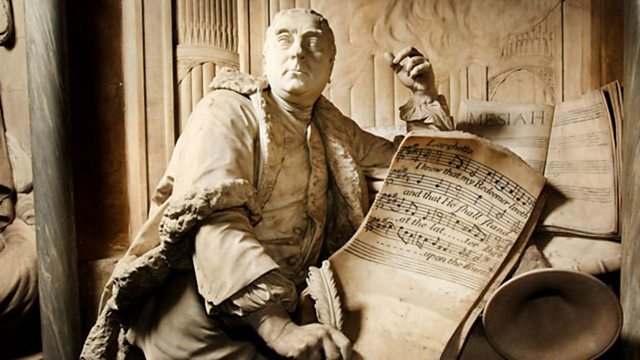 George Frideric Handel
Donald Macleod and Suzanne Aspden of Oxford University look at Handel's beginnings, his skilful ability to impress and control his employers, and his tendency to recycle existing music.
If you are in search of a good role model, an example of a life well spent, well navigated, look to George Frideric Handel's seventy-four years. From day one this divinely musical and decisive Saxon instinctively knew where to take himself and who to please.
Donald Macleod is joined by Suzanne Aspden, a Handel expert from Oxford University armed with the latest in Handel scholarship. Faced with hours of Handel's sublime music and the composer's eventful life story they've whisked up a focus on Handel the borrower of his own and others' music - with a look at Agrippina the opera that so impressed Venice, and an electric peformance of Dixit Dominus. They discuss Handel the politician, how the composer was adopted in England and found long-term favour with the new Hanoverian monarchy.
Some of the most arresting moments from Handel's operas Radamisto, Admeto, Partenope, and Ariodante dominate the third programme, a look at Handel the resourceful 'Opera divo'. And with ravishing music from his oratorios Esther, Saul, Samson and Messiah, Handel as 'Man of God' is also exposed, revealing the composer's ability to twist a ban on staging Biblical texts to his advantage.
Today the spirit of Handel lives on and in the final programme 'The Idea of Handel' Donald and Suzanne broadcast 'The Anthem for the Foundling Hospital', the Violin Sonata in D Op.1 and a saucy aria from Semele, as they exhibit how the reputation of this great composer has evolved over the centuries.
Featured in...
Listen to programmes examining the life and works of George Frideric Handel.

Listen to programmes about some of the major composers of baroque music.

Performances and features from Radio 3's 18th Century Season.