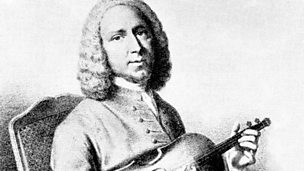 Jean-Philippe Rameau
Duration: 46:01
Donald Macleod explores the life and works of French Baroque composer Jean-Philippe Rameau, whose revolutionary Treatise on Harmony still forms the basis of much music theory teaching today.

During his lifetime, Rameau was widely regarded as the greatest French composer of the age, yet within a few decades of his death, his music had fallen into neglect. It took a century for the Rameau revival to begin and almost as long again for him to be fully rehabilitated. Donald Macleod considers the composer's first 50 years, which for the most part are shrouded in mystery.

Rameau is best known for his operas, yet he didn't write his first one until he was nearly 50. The result, Hippolyte et Aricie, caused an absolute sensation. Rameau's acte de ballet of 1748 Pygmalion, was an instant hit with the Parisian public. By this point, Rameau was so successful that he was officially banned from having more than two operas staged in a single year. Les Boreades, Rameau's final opera, was an astonishing work that, incredibly, had to wait almost 300 years for its first staging.
Available since: Wed 21 May 2014
This clip is from
Donald Macleod explores the life and works of French Baroque composer Jean-Philippe Rameau