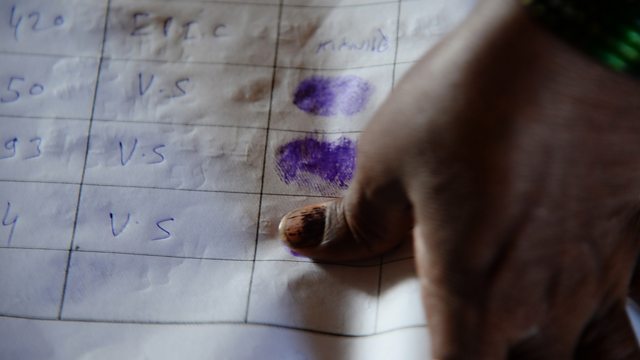 And the Winner is…
Listen in pop-out player
Stories from inside and outside the ballot box, including dispatches from Iraq, India and Europe.
Cobbling together a coalition after Iraq's elections last month could take some time. The vote was held in tense circumstances, as the number of sectarian attacks has risen sharply. Kevin Connolly reports on the ordinary people trying to go about their lives.
In India there are big expectations for the incoming BJP government and its leader Narendra Modi. Mark Tully assesses some of the pitfalls and finds out why the ruling Congress Party failed so badly. And Ed Butler reports on India's 'wedding detectives', a rather new job title created in part by the country's economic boom.
BBC Correspondents were out in force covering this week's European Parliament elections, and they heard stories of army veterans, petanque players, and a fisherman in the south of France who rails against a united Europe.
Finally, voters in Scotland will choose whether or not to stay part of the United Kingdom in an independence referendum later this year. Scotland has been joined with England for more than 300 years. Alan Little has been to Panama to investigate the colonial misadventure that went a long way towards cementing that union three centuries ago.
Presenter: Pascale Harter
Producer: Mike Wendling
Photo: An Indian voter marks a register with her thumb-print at a polling station in the Shirgaon village of Pune district, south-east of Mumbai on April 17, 2014. (INDRANIL MUKHERJEE/AFP/Getty Images)
Last on
Sun 25 May 2014
08:06

GMT