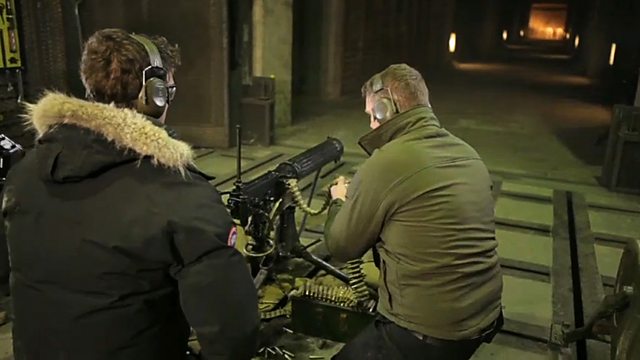 Dan Snow is granted special access to a weapons testing facility in the east of England. Here in a concrete underground bunker, three of the most feared pieces of military hardware in the history of modern warfare are being prepared for live firing.
The MG-08, the Vickers and the Lewis Gun were machine guns used to devastating effect on the Western Front during WW1. The German MG-08 and the British Vickers guns were based on the same Maxim design. Able to fire around 500 rounds per minute, they produced a defensive screen of bullets that was both deadly and extremely difficult to counter. The Lewis Gun, an American design, saw the machine gun evolve into a lighter, mobile and more offensive weapon as it could be quickly transported across the lines.
Dan takes a deep breath as he prepares to have an extremely close encounter with some of the deadliest weapons of the war in an attempt to understand how they were able to wreck such havoc.
Dan also puts to the test two of the most iconic weapons of the war. The Mauser Gewehr '98 and the Lee Enfield Short Magazine MkIII were the standard issue rifles for the German and British armies respectively.