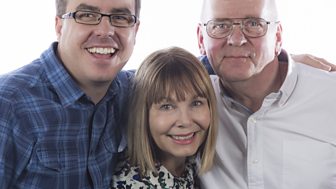 Chrissie Jackson
Mid-morning music and conversation with Chrissie Jackson on BBC Radio Norfolk.
Chrissie Jackson - weekday mornings from 10
Chrissie has been on the radio for over 30 years in Norfolk.
She began as a local club DJ in the county back in the late 70's and worked in a bank and at C & A which provided the funds for the record collection!
Her bosses at Penny's in Norwich and Tiffany's in Great Yarmouth had to provide her with boxes to stand on when she was doing her DJ sets due to her height, but even then, she  wanted to move into radio.
When Radio Broadland arrived, Chrissie sent in a demo on a cassette with the words 'Please Hear Me' printed on the envelope - she continued to try every avenue to get on air, but it wasn't until 1986 that she got her first chance.
She continued to do holiday cover at the station and eventually persuaded bosses to give her a trial period which lasted until 1999 when she was partnered with Rob Chandler to present the new Breakfast Show, eventually earning the nickname 'the Posh and Becks of Norfolk'!
The show came to an end in December 2013, but Chrissie moved to BBC Radio Norfolk where she now presents the Mid-Morning show every weekday morning from 10am.
Off air, Chrissie is a very proud grandmother, continues to DJ alongside Rob at Norfolk's nightclubs and is currently finding jobs for recently retired husband Paul to do!
Normal For Norfolk Tea Towel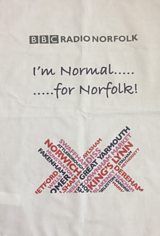 These Terms and Conditions were updated on Monday 1st May, changes are in bold
BBC Radio Norfolk – Chrissie Jackson's 'Normal For Norfolk' Competition
Terms and Conditions
 1. The competition is open to all residents of the UK, including the Channel Islands and the Isle of Man, except BBC employees and anyone connected with the competition. Proof of age and eligibility may be requested.
 2. The competition will be played Monday to Friday between 1000 and 1100 (except when editorial requirements lead to a change in schedule or a change in programme content).
 3. During these programmes listeners will be invited to call in and answer the question posed by the presenter by:
 • Calling the number: 01603 617 321. Standard geographic charges from landlines and mobiles will apply and may be included in your telecom provider's call package.
• The qualifying question will be of a topical nature.
• The main competition will be based on three questions with a 60 second time limit.
• The caller will be asked for an answer after each question and at the end will be told how many out of three they answered correctly.
• If they have answered any incorrectly, the second caller will be asked the same questions and if they answer more questions correctly than the first caller, they will win.
• If neither gets all three questions right, neither will win and that will be the end of that competition that day.
No other method of entry will be accepted. Only one entry is allowed per listener per day.
4. Entry is only open during the times announced on-air. Entries received outside these times will not be registered. The opening and closing times may change so please listen to announcements during the programme.
5. When listeners telephone to enter, a member of the production team will ask them their answer to the question, their name, general location and a contact telephone number.
6. The entrants' information requested by the production team will be handled by the BBC in accordance with the Data Protection Act 1998 and the BBC's Privacy and Cookies Policy. The BBC will only ever use your personal details for the purposes of administering this competition and will not be passed on to any third parties without your consent. Your personal details will only be kept for as long as necessary. For more information please see BBC Privacy Policy (http://www.bbc.co.uk/usingthebbc/privacy/privacy-policy).
7. Two entrants will be selected each day at random from those who answered the qualifying question correctly and they will be the participants in the on-air competition for that day. A member of the production team will call them back so they can be put live on air to take part in the main competition.
8. There will only be two entrants on air each day. If they don't give all the correct answers they will not win and that will be the end of the competition for that day.
9. In the event of the production team receiving no entries for the qualifying question the producer will reserve the right to change or amend the question within a reasonable timescale so as to leave enough time for people to enter.
10. The winner and entrants must ensure that they are available on the telephone number provided to take the call from the production team. If an entrant is not available after reasonable attempts by the production team, another entrant will be randomly selected for that day.
11. The BBC reserves the right to prevent putting an entrant on air or take any entrant off-air, and disqualify them from the competition at any time if they display offensive, abusive or any other kind of behaviour unsuitable for broadcast.
12. The prize consists of a BBC Radio Norfolk tea towel.
The prize is stated as above. There is no cash alternative and the prize cannot be sold or transferred in any circumstances. The BBC reserves the right to substitute or supplement any element of the prize. The BBC is not responsible for any element or change to the Prize that is outside of its control.
13. Entrants must agree to take part in any post-competition publicity if required.
14. Listeners put on air to play the competition cannot re-enter for four weeks.
15. The BBC's decision as to prizes awarded is final. No correspondence relating to the quiz will be entered into.
16. The BBC reserves the right to: (i) amend these terms and conditions, including but not limited to, the competition opening and closing times and the programmes included; (ii) disqualify any entrant who breaches the rules or has acted fraudulently in any way; (iii) cancel the competition, at any stage, if in its opinion it is deemed necessary or if circumstances arise outside its control.
17. The BBC, its sub-contractors, subsidiaries and/or agencies cannot accept any responsibility whatsoever for any technical failure or malfunction or any other problem which may result in any entry being lost or not properly registered.
18. This competition accords with the BBC's Code of Conduct for Competitions and Voting, details of which can be found at: BBC Competitions Policy http://www.bbc.co.uk/editorialguidelines/guidelines/appendix2  
19. The promoter of the competition is the British Broadcasting Corporation and the applicable law is the laws of England and Wales.
20. Entrants will be deemed to have accepted these rules and to agree to be bound by them when registering.