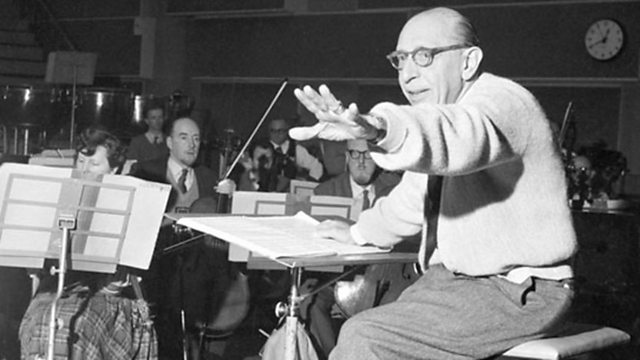 Igor Stravinsky
From 1939 until his death in New York in 1971 Stravinsky made America his home. In this podcast, Donald Macleod explores this final chapter of the composer's life, looking at the impact his American experiences had on Stravinsky and his works.
Donald begins by looking at Stravinsky's final years in Europe, when he was already composing works for American patrons, and leading a complicated private life, with his family ensconced in a grand chateau in South-Eastern France, and his mistress Vera in a Paris apartment. The tragic loss of his daughter, wife Katya and mother Anna within a few months in 1938 led him to feel that he no longer had ties to Paris, and he set sail for America in the autumn of 1939.
Stravinsky's early years in America, as a refugee in Los Angeles, were contradictory. He found himself rubbing shoulders with Marlene Dietrich and Greta Garbo, but having to face up to commercial pressures to earn a living.
When the young conductor Robert Craft entered Stravinsky's life the composer found an advisor on English literature and developments in new music, and a devotee who assisted him for the remainder of his life.
Donald Macleod next examines Stravinsky's attempts to keep up with the avant-garde and embrace serialism, despite being seen as 'the grand old man' of classical music.
Donald Macleod concludes by looking at Stravinsky's emotional return to his homeland, Russia, during the period of incessant travel that would define his final years.
Featured in...
Listen to programmes examining the life and works of Igor Stravinsky.

More programmes related to the series: The Story of Music in 50 Pieces