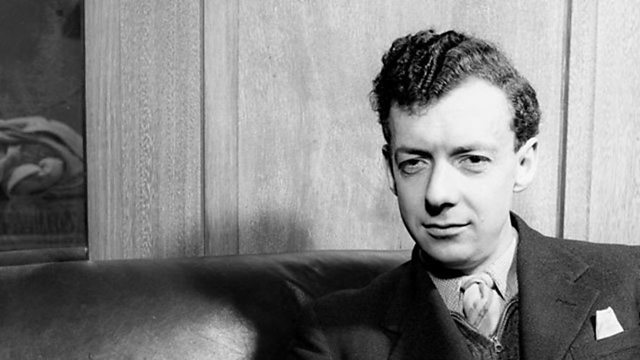 Benjamin Britten
Donald Macleod reveals some of the wealth of music English composer Benjamin Britten wrote during his remarkably successful career in the light of two enduring influences - his life partner, the tenor Peter Pears and his beloved native county of Suffolk.
The BBC helped advance Britten's career by broadcasting two chamber pieces he had composed whilst still a student at the Royal College of Music. He was soon writing soundtracks for the GPO Film Unit as well as incidental music for the theatre, TV and radio. Donald introduces music from those early years including one of Britten's best known soundtracks for the GPO - 'Night Mail', and two works written during his wartime years in America - the Seven Sonnets of Michelangelo, written for Pears, and his first opera, based on the story of the mythological lumberjack, Paul Bunyan.
The first ever Aldeburgh Festival took place in June 1948. Donald Macleod introduces part of Britten's cantata St Nicholas, premiered on the opening night, plus extracts from two operas, both set in Suffolk - the dark tale of Peter Grimes, set in a fishing village based on Aldeburgh and the comedy Albert Herring, about a socially inept young man destined to be crowned May King.
By 1952, when the Aldeburgh Festival was in its 5th year, Britten was nearing forty. By then, he and Pears were very much part of the fabric of the community there. Donald Macleod introduces Canticle II: Abraham and Isaac, which was premiered at the festival that year, extracts from two more operas - the first based on Henry James' ghostly novella Turn of the Screw and the second on Shakespeare's Midsummer Night's Dream, plus another fairy-tale work - the ballet Prince of the Pagodas, complete with magical evocation of the Balinese gamelan.
In September 1960, Britten had the good fortune to meet the Russian cellist Mstislav Rostropovich who became a close friend and inspiration behind five works for cello, and a song cycle for him and his wife, the singer Galina Vishnevskaya. In the fifth programme, Donald introduces the final song from the cycle - The Poet's Echo - together with part of the Cello Suite No.2, plus an extract from the intensely moving War Requiem and the second of Britten's church parables, The Burning Fiery Furnace.
Britten had struggled with ill health throughout his life. He put off much needed heart surgery in order to complete his final opera, Death in Venice, premiered at the Aldeburgh Festival in 1973. In the fifth programme Donald Macleod introduces an extract from that work which features the last major role he would write for his life partner Peter Pears, plus a movement from one of his rare late chamber works, the string quartet no.3, and an excerpt from a performance of his dramatic cantata Phaedra, sung by its dedicatee, Janet Baker.
Featured in...
Listen to archive programmes examining the life and works of Benjamin Britten.