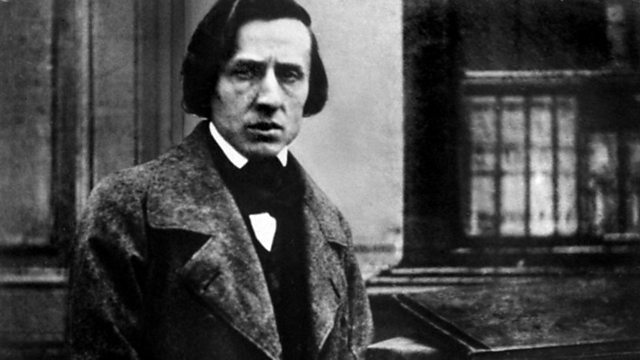 Fryderyk Chopin
Donald Macleod explores Chopin's time at Nohant, the country retreat of his lover George Sand, where over seven long summers towards the end of his life he composed much of his finest music.
Donald begins by focusing on Chopin's Mazurkas and his Second Piano Sonata, which shocked contemporary audiences.
Next he turns to Chopin's brief fallow period, a domestic spat and a clutch of masterpieces, including the 3rd Ballade and the F minor Fantaisie.
Painter Eugene Delacroix was among the houseguests during Chopin's third summer at Nohant. With music including the Polonaise Heroique, the 4th Scherzo and the 4th Ballade, which distils the experience of a lifetime.
As his relationship with Sand finally disintegrates, Chopin produces his three final masterpieces: the ultra-modern Polonaise-Fantaisie, the underrated Cello Sonata, and perhaps his most influential work, the Barcarolle.
Featured in...
Listen to programmes examining the life and works of Fryderyk Chopin.

More programmes related to the series: The Story of Music in 50 Pieces