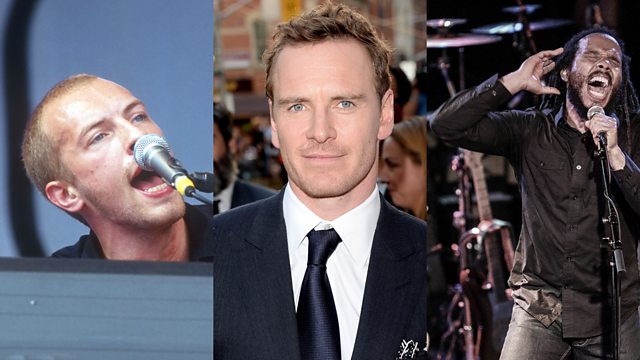 Michael Fassbender
Hollywood star Michael Fassbender tells The Arts Hour why he discovered putting a giant mask over your head really quite liberating. He stars in a new film Frank about the musician who always performed in an oversized papier maché.
The band Coldplay releases their sixth studio album - Ghost Stories – and their lead singer Chris Martin talks about getting the balance right between public and private life.
This year marks the the centenary of the birth of Wales' greatest poet – Dylan Thomas. Former US President Jimmy Carter reveals why he is a lifelong devotee.
Indian musician Debashish Bhattacharya demonstrates how the blues would sound on his slide guitar.
There is the story of the cellist of Sarajevo who played Albinoni's Adagio in G Minor during the siege in the middle of the Bosnian war
As the annual film fest feast starts in Cannes next week – we open the curtains on an exclusive peak at the non-Hollywood films which are likely to cause a stir.
Plus Ziggy Marley, son of the Reggae legend Bob tells us why he embraces that old adage that behind every successful man, is a good woman.
(Photo: From left to right, Chris Martin, Michael Fassbender, Credit: Getty Images, Ziggy Marley, Credit: Roxanne Haynes)
Last on
Sun 11 May 2014
21:06

GMT