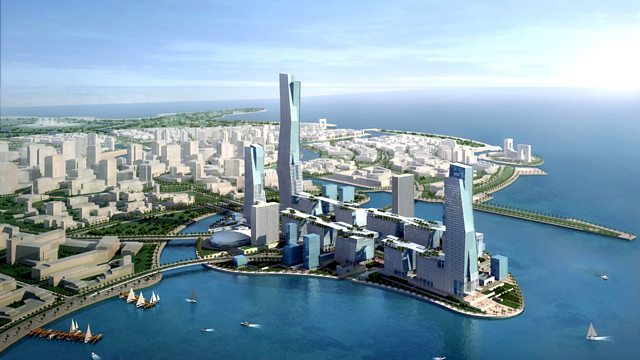 Future Cities
Listen in pop-out player
Smart and eco-cities are design buzz-words – but how realistic are such plans globally? This week Bridget Kendall takes a future city tour with South African urban planning professor Vanessa Watson, who says plans to transform sub-Saharan African cities into gleaming Dubai-style hubs are harmful fantasies. Also, Delhi resident and writer Rana Dasgupta explains how he has watched his adopted city utterly transform in the last 20 years. And, futurologist Josef Hargrave offers a vision of an urban super-building in 2050.
(Photo: A model of a proposed development in Jeddah, Saudi Arabia. Credit: AFP/ Getty Images)
Last on
Mon 12 May 2014
02:06

GMT
Vanessa Watson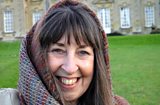 Vanessa is professor of City Planning at University of Cape Town in South Africa, where she founded the African Centre for Cities project. Her most recent research is on the new 'African Urban Fantasies'. Sub-Saharan Africa's larger cities are currently being re-visioned in the image of cities such as Dubai, Shanghai and Singapore. But Vanessa believes the vision of glass-box towers and manicured lawns on architects' websites is in stark contrast to reality of deep poverty, and minimal urban services. She thinks the most likely outcome of these fantasy plans is even more marginalisation and inequality.
Rana Dasgupta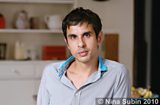 Rana is a writer whose first novel won the Commonwealth Writers Prize in 2010, but his new book Capital is a non-fictional, personal portrait of life and money in 21st Century Delhi. Rana says a city's past can never be separated from its future and that the shocking way in which Delhi has transformed in the last two decades can be directly linked to historic traumas, chiefly Partition in 1947.
Josef Hargrave
Josef leads the Europe division of the Foresight and Innovation Group at the global engineering and design firm, Arup.  In a recent report called It's Alive!, he and his team imagined a city in 2050, and designed an intelligent super-building. Josef says in a future that contains climate change and scarcity, city buildings will have to switch from being consumers of energy and food to being producers.
60 Second Idea to Improve the World: Global Musical Chairs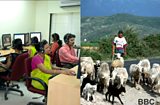 In this week's 60 second idea author Rana Dasgupta proposes a kind of global musical chairs. Every so often, all the world's working people should be moved around at random.  Imagine what you would learn being a factory worker in Bangladesh for one year, and an Andean goat herder the next. The point is not merely self-fulfilment - everyone would be forced to take on the interest, not merely of one tiny national group, but of everyone on the planet – because they would have no idea who they would be tomorrow. Think of all the landscapes we would see, the friendships we would form, and the stories we would have to tell. Being human would be more just, more expansive, and possibly more interesting.