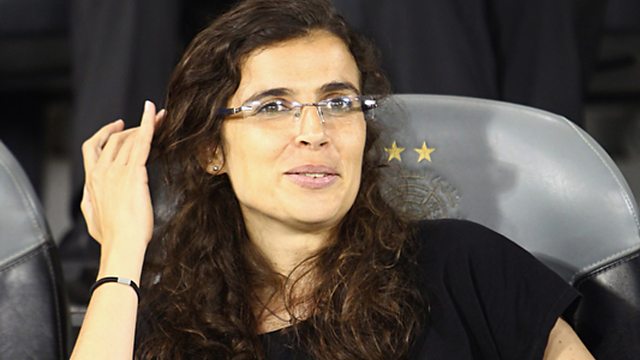 Football's Female Breakthrough?
When Helena Costa takes over as manager of Ligue 2 football club Clermont Foot next summer, she will become the highest profile female coach in the men's game. We assess Costa's challenge with the only other woman to manage at a similar level, Carolina Morace, who previously took charge of Italian Serie C1 team Viterbese, and current Arsenal Ladies manager Shelley Kerr.
Young Fit and Dying
On average one person a week dies in an organised marathon or half marathon. We speak to Michael Dogan, whose documentary, Young, Fit and Dying: The Truth About Running, has just had its premiere. The film investigates why so many seemingly fit and healthy people lose their lives doing an activity millions of us do.
Mr Irrelevant
The NFL draft comes to an end on Saturday, with the 256th and last pick earns the title 'Mr Irrelevant'. That may seem harsh, but it made no difference to Marty Moore who became the first Mr Irrelevant to make it to and then win a Super Bowl ring with the New England Patriots. He tells us his story.
Very Superstitious
We explore the remarkable lengths to which fans are prepared to go in order to think they can influence the result of a football. Some even think what they do can help Liverpool win the league!
Squash
How the sport of squash has helped young people find purpose and self-confidence in inner city New York.
Sporting Witness
In 1966, North Korea visited England to play in their first World Cup. The communist players were warmly welcomed in their host city of Middlesbrough in the North East of the country and went on to inflict a shock defeat on mighty Italy. Will Yates has been speaking to Italian forward Sandro Mazzola and to one of Middlesbrough's many North Korea fans.
Last on
Sat 10 May 2014
09:06

GMT