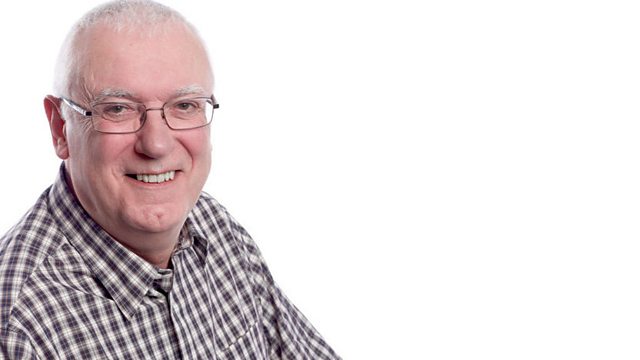 The Cartridge years: 1966, 1976 and 1990.
This week Richard turns back the clock with the hits and local headlines from May 1966, 1976 and 1990. And he plays three tracks from Bread's 1977 album Lost Without Your Love.
Richard highlights some of the lighter stories of the week that you may have missed, reviews some of the recent surveys and looks ahead to the news for Monday.
It's the perfect way to spend a Sunday afternoon.
There is a choice of listening this Sunday afternoon. Richard is on 103.8 FM, 1359AM, digital radio and online. And there is ball by ball cricket commentary as Hampshire face Surrey in the county championship on AM and online. And there's commentary of Saints against Man Utd on 96.1FM.
Last on
May 1966
Dockers in Southampton were on strike.
The Moors Murderers Ian Brady and Myra Hindley were sentenced to life imprisonment for three child murders.
The National Union of teachers were on strike.
Billy Graham held a meeting of clergymen.
Bus drivers had a 6.6% pay rise.
The Queen & Duke of Edinburgh were guests of honour at the Chelsea flower show.
Britain basked in sunshine, on the hottest Whitsun weekend for almost 20 years.
A car came off the rails at a funfair in Battersea.
Billy Graham was in London on a crusade.
Two men were killed in helicopter accident in North Vancouver.
Guyana, a former colony of British Guiana, held independence celebrations.  
Two British journalists were attempting to row from U.S. to Britain.
Fidel Castro declared martial law in Cuba because of a possible attack by the US. 
In New York City, Dr. Martin Luther King Jr. makes his first public speech on the Vietnam War. 
Technical problems dogged the Surveyor moon rocket.  
The Oaks race was won by Valoris, ridden by Lester Piggott.
The Cycling Tour of Britain was about to start.
The Monaco Grand Prix was the first race where the cars had engines with increased capacity of three litres. 
The Motorcycle grand prix took place at Mallory Park - heavy rain & sleet caused crashes on the circuit.
May 1976
The south was experiencing a mini heatwave, as temperatures hit 80F.
An auction sale took place in Hampshire of a private collection of steam engines, vintage cars & tractors.
The Cod war was on - HMS Falmouth returned to Portsmouth after patrolling the area.
Hardcourt tennis championships were held in Bournemouth.
Roller hockey championships were taking place in Southsea.
100th anniversary of the death of Samuel Wesley was marked in Winchester.
RNLI headquarters in Poole was opened by Princess Anne.
The liner Pendennis Castle set off for her final trip to South Africa.
600 national union of railway workers based in Southampton held an overtime ban.
The environmental secretary Peter Shore met with the Water Authority to discuss a possible drought after the dry winter.
Jeremy Thorpe resigned as liberal leader.
European cup final in Glasgow:  Bayern Munich v St.Etienne 
Bomb making equipment found in flat which was until recently occupied by an Irishman wanted in connection with number of terrorists attacks in London.
"Brent A" the biggest platform ever built for N.Sea, began its journey from the Firth of Forth to the Brent oil field.
Most of the crew of an oil tanker Urquiola were rescued before explosion aboard. The ship was carrying 110,000 tons of crude oil which poured into sea. 
1000 people were killed in an earthquake in Northern Italy.
May 1990
The inventor of the Hovercraft, Sir Christopher Cockerell officially named Freedom 90, the latest addition to the Portsmouth to Isle of Wight hovercraft fleet. 
Southampton Eastleigh Airport was given the all clear for substantial development.
The police announced a new measure to try to prevent trouble from hooligans travelling to the World Cup in Italy, following clashes in Bournemouth.
The Whitbread Round The World Yacht Race ended in Southampton.
Royal marines invaded the beach at Swanage to raise funds for a new lifeboat to replace the standby vessel currently on loan.
British rail apologised to thousands of passengers who were delayed for hours when a London commuter train broke down in the New Forest.
Hampshire County Council put beef back on Isle Of Wight school menus.
A new passenger service, The Cowes Express was launched, offering cheaper fares for those crossing the Solent. 
4000 people on the Isle of Wight were sent summonses for refusing to pay their poll tax.
People in the New Forest were being warned of tick bites which could result in them contracting Lyme disease.
BBC Radio One went onto FM in the South.
The England football team set off for the World Cup in Italy.
The French government refused to lift its ban on British beef.